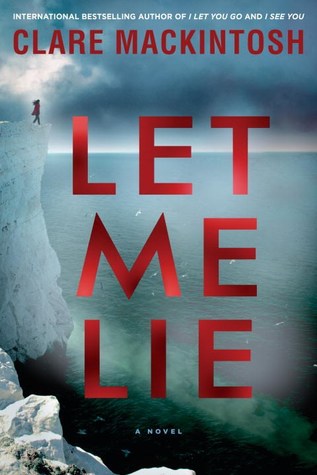 Title: Let Me Lie
Author: Clare Mackintosh
Publisher: Berkley
Publication Date: March 13, 2018
Page Count: 395
My rating:  3 1/2 stars
About the book:
The stunning new novel from Clare Mackintosh, the international bestselling author of I Let You Go and I See You.
The police say it was suicide.
Anna says it was murder.
They're both wrong.
Last year, Tom and Caroline Johnson chose to end their lives, one seemingly unable to live without the other. Their daughter, Anna, is struggling to come to terms with her parents' deaths, unwilling to accept the verdict of suicide.
Now with a baby herself, Anna feels her mother's absence keenly and is determined to find out what really happened to her parents. But as she digs up the past, someone is trying to stop her.
Sometimes it's safer to let things lie….
Let Me Lie by Clare Mackintosh is a psychological thriller that was a bit of a slow burn read. The story is told between alternating the point of view between a pair of main characters and then an unknown person involved.
Anna is a new mother that is still struggling with the loss of both of her parents just a year before. Anna's father had been seen just before he apparently jumped to his death and then shortly after Anna's mother seems to have done the same thing weighted down with the grief of the loss of her husband.
But Anna has never been convinced that her parents were suicidal and on the anniversary of her mother's death she receives a note questioning that fact. Turning the note over to Murray who is a retired detective he begins to investigate thinking that the couple just may have been murdered instead.
Having read I See You by Clare Mackintosh and loving it I was extremely excited to pick up a copy of Let Me Lie and while I enjoyed this one too perhaps I was expecting a bit too much from it. For starters this one seemed to be a really slow moving story that didn't quite ooze with excitement to me as it slowly unfolded. Of course I do have a tendency to be a tad impatient at times too but that stands out even more when events aren't grasping me quite the way I like them too while reading.
But on the plus side for this one that left me rating the book at 3.5 stars I really did enjoy the twists the author wove into the story. Some things just weren't what I was thinking they were which is always a nice surprise and then I did enjoy the ending of the book and how the entire story unfolded. So while not a perfect rating this time around I will definitely look out for more from this author in the future.
I received an advance copy from the publisher via Edelweiss.
Find this book online: 
About the author: