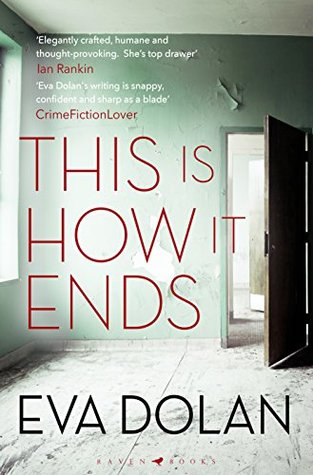 Title: This Is How It Ends
Author: Eva Dolan
Publisher: Bloomsbury USA
Publication Date: March 13, 2018
Page Count: 319
My rating:  2 stars
About the book:
Three hundred gone. Just six left.

The building was once home to families, friends, children, couples, love, life. Now, almost every apartment is empty, the inhabitants forced out by the developers tearing down the old social housing to build luxury homes.
Only a few of the inhabitants have fought back against the attempts to evict them from their homes and their histories. And they have been joined by passionate student protester and would-be journalist, Ella, who is leading a high-profile media campaign to protect those who refuse to leave.
One night, Ella returns home to find a horrible scene awaiting her-the dead body of a mysterious man. Panicked, she calls her neighbor Molly, who convinces her that the police won't believe she's innocent. Together the two women concoct a gruesome plan to hide the body.
But the secret won't stay buried for long. As truth hangs in the balance, a neighbor tells Molly he had heard Ella arguing with a man in the hallway and mistrust grows between Ella and Molly, as repercussions of that night threaten to change both women's lives forever.
This Is How It Ends by Eva Dolan is a psychological thriller. The story is told from alternating the prospective between Ella and Molly and also flashing back into the past to the events leading up to where the book begins.
As it starts off Ella has called her friend Molly to help her when after her party she finds herself with the body of a dead man. Ella claims to have been attacked and only defended herself but of course Molly doesn't trust the police and offers to help Ella cover up the crime by ditching the body in the almost abandoned building they had been fighting to save.
The book then begins changing between the two ladies as it goes back to show how they had met and the campaign to save the building in which Molly lives. But it also has chapters in the current time after the murder in which Molly begins to question Ella's story of just what happened that night.
I have to say that it seems when I was finished that I really seem to be in the minority on this book but unfortunately I just didn't end up liking it much at all. My biggest problem started off when I just didn't really care or connect to either Ella or Molly although I will say I liked Molly a bit more. But with not really connecting to either main character it just seemed to make everything that came after drag at a snail's pace and I found it easy to put this one to the side which is rare for me.
The idea of fighting for the low income against the rich might have been intriguing if I could get behind the characters but instead I just didn't find it interesting at all and couldn't find it in me to care about the details to how Ella ended up with a dead man, I was more thinking oh just arrest them all so I can move onto my next read. So needless to say this one just wasn't my cup of tea although the majority of reviewers do seem to love this one.
I received an advance copy from the publisher via NetGalley.
Find this book online: 
About the author:
Eva Dolan was shortlisted for the CWA Dagger for unpublished authors when only a teenager. The four novels in her Zigic and Ferreira series have been published to widespread critical acclaim: Tell No Tales and After You Die were shortlisted for the Theakston Crime Novel of the Year Award and After You Die was also longlisted for the CWA Gold Dagger. She lives in Cambridge.