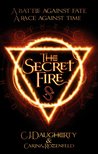 The Secret Fire by C.J. Daugherty
My rating: 5 of 5 stars
Sacha Winters lives in Paris and has a curse upon his family that won't allow him to die, that is until his 18th birthday. Taylor Montclair is a English student who is doing everything she can to get in Oxford, so when her French teacher asks her to tutor a French student in English via the internet she of course agrees since it will look good on her academic resume.
Taylor and Sacha soon find their lives are far more entwined than they would ever have guessed. Taylor just may be the one person who could save Sacha from his curse.
I've been on somewhat of a slump when it's come to young adult fantasies being a bit boring to me for a while. Thankfully with The Secret Fire that completely wasn't the case. The plot was just enough revealed to keep the pages turning and also make me want to continue on and find out where it will all go in the remainder of the series, so many possibilities to come.
Love the relationship with Taylor and Sacha. There is a reasoning behind them being together but yet it didn't feel as if the authors were rushing them together and moving the relationship too quickly either.
This is really a typical formula for a young adult fantasy but it stood out on it's own and had a plot and characters that kept me wanting to know more. Would completely recommend checking this one out.
I received an advance copy from the publisher via NetGalley in exchange for an honest review.