Unbroken (Loveless, Texas 0.5) by Jay Crownover #bookreview #contemporary #romance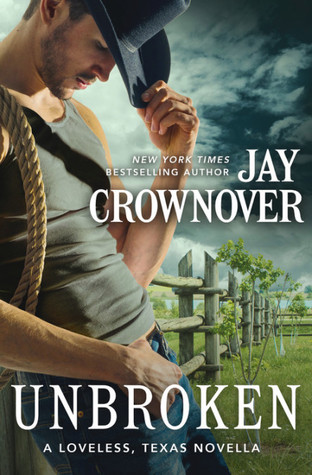 Title: Unbroken
Author: Jay Crownover
Publisher: Forever Yours
Publication Date: May 14, 2019
Page Count: 160
My rating: 4 stars
About the book:
From the New York Times bestselling author of the Marked Men series comes a captivating novella about a rugged rodeo star who will do anything to protect the people he loves.
When rodeo star Crew Lawton loses everything in a bad bet, he has no choice but to take a new job to pay off his debts – even if it means becoming the face of an expensive male skincare line. Crew is used to getting sweaty and rustling in the dirt, not posing for photo shoots. And he's certainly not used to being bossed around by a woman who doesn't even know the difference between bulls and broncs. But Crew owes money to dangerous criminals, and he'll do anything Della says in order to pay them back and keep them far away from his family in Loveless, Texas…
The launch of her new men's line for her family's company means everything to Della Deveaux, and she's not willing to let some rugged, arrogant cowboy ruin her campaign. Crew Lawton is the last man she would have chosen to represent her chic, sophisticated brand. Unfortunately, her father already invested millions in Crew's stupidly handsome face. Yet the more time they spend together, Della and Crew realize that opposites do attract. But when the time comes for Crew to face his past mistakes, will he be able to protect his family…and the woman he's come to love?
Unbroken by Jay Crownover is a prequel novella in the contemporary romance Loveless, Texas series. The first  book of the series will actually be a full length novel that will change the main characters so as with most romance you can read them in any order or simply by themselves as each are standalone stories.
In Unbroken rodeo star Crew Lawton finds himself deep in debt to the wrong people and needs to do whatever he can to pay off his debts. The last thing this cowboy thought he'd find himself doing is becoming a model but soon he's posing for Della Deveaux and her male skincare line. The  two couldn't be any more different but as  they say, opposites attract.
Being novella length this is a fairly quick read that some may think moves a bit too quickly but I actually enjoyed the story and characters. Of course one can always argue it would be  better with more depth but in this case I got to know everything well enough it was a actually a fun read that one can easily do in one sitting.
I received an advance copy from the publisher via NetGalley.
Find this book online: 
About the author:
Jay Crownover is the International and multiple New York Times and USA Today bestselling author of the Marked Men series, The Saints of Denver series, the Point and Breaking Point series. Her books can be found translated in many different languages all around the world. She is a tattooed, crazy haired Colorado native who lives at the base of the Rockies with her awesome dogs. This is where she can frequently be found enjoying a cold beer and Taco Tuesdays, as well as live music and terrible TV shows. Jay is a self-declared music snob and outspoken book lover who is always looking for her next adventure, between the pages and on the road.
You can email Jay at: JayCrownover@gmail.com