Title: Elevation
Author: Stephen King
Publisher: Scribner
Publication Date: October 30, 2018
Page Count: 160
My rating: 3 stars
About the book:
#1 NEW YORK TIMES BESTSELLER
The latest from legendary master storyteller Stephen King, a riveting, extraordinarily eerie, and moving story about a man whose mysterious affliction brings a small town together—a timely, upbeat tale about finding common ground despite deep-rooted differences. 
Although Scott Carey doesn't look any different, he's been steadily losing weight. There are a couple of other odd things, too. He weighs the same in his clothes and out of them, no matter how heavy they are. Scott doesn't want to be poked and prodded. He mostly just wants someone else to know, and he trusts Doctor Bob Ellis.
In the small town of Castle Rock, the setting of many of King's most iconic stories, Scott is engaged in a low grade—but escalating—battle with the lesbians next door whose dog regularly drops his business on Scott's lawn. One of the women is friendly; the other, cold as ice. Both are trying to launch a new restaurant, but the people of Castle Rock want no part of a gay married couple, and the place is in trouble. When Scott finally understands the prejudices they face–including his own—he tries to help. Unlikely alliances, the annual foot race, and the mystery of Scott's affliction bring out the best in people who have indulged the worst in themselves and others.
From Stephen King, our "most precious renewable resource, like Shakespeare in the malleability of his work" (The Guardian), Elevation is an antidote to our divisive culture, as gloriously joyful (with a twinge of deep sadness) as "It's a Wonderful Life."
Elevation by Stephen King is a novella length fantasy read…. yes, that's novella and Stephen King in the same sentence folks. And before you ask, I am labeling this one a fantasy too as there's nothing scary or horror about it either.
Elevation centers around a character named Scott Carey who finds himself mysteriously losing weight, except he looks exactly the same. You see, Scott steps on a scale and the number keeps going down week after week, day after day, but there's no outward appearance and he can even hold a free weight while on the scale with no change so Scott is looking for help with his new problem.
Now, if you are like me and think well this sounds familiar.. Thinner anyone? But no, this story is more of a contemporary why don't we all get along story that just happens to have supernatural weight loss at the center of it. Not sure if it's the current political environment or Mr. King was just bored but this had a Kumbaya feel as different types of characters interact with the main character. Weird, yes, but it wouldn't be the first story from Stephen King I found weird but still strangely entertaining on some level.
Find this book online: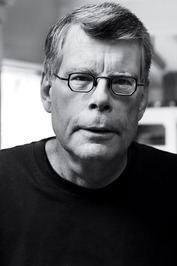 About the author:
Stephen King is the author of more than fifty books, all of them worldwide bestsellers. His recent work includes The Bill Hodges Trilogy, Revival, and Doctor Sleep. His novel 11/22/63 was named a top ten book of 2011 by The New York Times Book Review and won the Los Angeles Times Book Prize for Mystery/Thriller as well as the Best Hardcover Book Award from the International Thriller Writers Association. He is the recipient of the 2003 National Book Foundation Medal for Distinguished Contribution to American Letters. He lives in Bangor, Maine, with his wife, novelist Tabitha King.