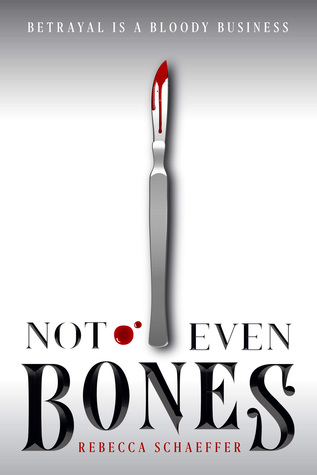 Title: Not Even Bones
Author: Rebecca Schaeffer
Publisher: HMH Books for Young Readers
Publication Date: September 4, 2018
Page Count: 368
My rating: 4 stars
About the book:
Dexter meets This Savage Song in this dark fantasy about a girl who sells magical body parts on the black market — until she's betrayed.
Nita doesn't murder supernatural beings and sell their body parts on the internet—her mother does that. Nita just dissects the bodies after they've been "acquired." Until her mom brings home a live specimen and Nita decides she wants out; dissecting a scared teenage boy is a step too far. But when she decides to save her mother's victim, she ends up sold in his place—because Nita herself isn't exactly "human." She has the ability to alter her biology, a talent that is priceless on the black market. Now on the other side of the bars, if she wants to escape, Nita must ask herself if she's willing to become the worst kind of monster.
Nita has always had an interest in anatomy so jumping into the family business didn't seem like a bad thing when it let Nita study the corpses her mother brought home. You see, there's a market for the body parts of supernatural beings and Nita turns a blind eye to how her mother acquires these beings in the interest of her studies.
Nita however never expected her mother to show up one day with a live boy captive and still expect Nita to still procure the necessary body parts for profit. This is the line that rattles Nita to her part in the family business and when she defies her mother then next thing Nita knows the tables are turned and she's waking up in her own cage having been captured on the black market.
Well now, it would probably go without saying that Not Even Bones would not be a read for the faint of heart. Gone are the super special heroine who uses her super special powers fighting the evil of the world and in walks dark and twisted Nita and her diabolical mother. Yep, a bit of a gruesome tale right from the start but certainly a creative young adult paranormal fantasy read.
This one has the urban fantasy feel being set in a world like ours only with paranormals existing among the humans but does take place in areas not often used in novels. Nita is also completely different than regular characters with the Dexter comparison really showing. Not sure I ever really "rooted" for her but some may and her story was certainly compelling. This is one I'd recommend to those looking for a more dark and twisted read out of the norm.
I received an advance copy from the publisher via NetGalley.
Find this book online: 
About the author:
Rebecca Schaeffer was born and raised in the Canadian prairies. Her itchy feet took her far from home when she turned eighteen, and she hasn't returned for more than a few months here or there since. She's allergic to stasis, loves travelling, and likes to pick up new languages. You can find her sitting in a cafe on the other side of the world, writing about villains, antiheroes, and morally ambiguous characters. Not Even Bones is her debut novel. Follow her on Twitter: @rrschaeffer.