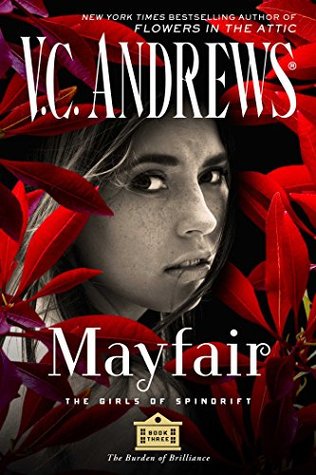 Title: Mayfair
Author: V.C. Andrews
Publisher: Pocket Star
Publication Date: July 2, 2018
Page Count: 120
My rating:   3 stars
About the book:
Book Three of the Girls of Spindrift. From the New York Times bestselling author of the Flowers in the Attic and My Sweet Audrina series (now Lifetime movies) continues a haunting new series featuring highly intelligent teenage girls who struggle to survive a specialized high school and find their place in a world that doesn't understand them.
Such is the burden of being brilliant.
Mayfair arrives at Spindrift School, and quickly begins to feel its walls are a prison, its teachers her wardens. Having become best friends with Corliss and Donna, the three of them become the de facto It Girls of Spindrift; the other students call them the Supremes—and not for their singing talents.
Jogging the grounds of Spindrift one day, the girls notices a hole in the fence leading to the nearby town that the students are never permitted to visit. Gathering up their nerve for an off-campus excursion, they venture to a local bar, and into the presence of a man Mayfair becomes enchanted by. Thrilling and new, this affair of the heart is the opposite of the rigorous study Spindrift demands of its pupils. And so for this ultra-smart girl, the question becomes: which is smarter, which brings more self-satisfaction, the path of the brain, or the wilds of the heart?
The four Girls of Spindrift novellas together form a sequel to Bittersweet Dreams—available now!
Mayfair is the third book of the Girls of Spindrift series by V.C. Andrews. The series is a set of novellas that are prequels to the book Bittersweet Dreams which has already been published. I have not yet read Bittersweet Dreams myself but I don't believe it would necessary to have done so to understand this novella, it seems to be mainly some character building for what would be coming in Bittersweet Dreams.
The first two novellas in the series introduced Corliss and Donna and now Mayfair has joined them at the exclusive Spindrift School that is for the extremely gifted. These girls never fit into their lives being well above their peers in school and testing off the charts and now they have found each other and began to bond and become friends. While the girls are out jogging they find a way under the fence and into a small town near the school and decide to explore.
Being novella length I'm sure you'll all expect my usual the story is good but there isn't a lot of depth. I really don't mind with these as it's more nostalgia to dip into the haunting lives that live within the pages of a V.C. Andrews novella. And yes, I'm well aware along with most anyone that V.C. herself passed away years ago and these are actually written by her ghostwriter, Andrew Neiderman.
There are some out there who 1 star every book coming out without ever giving them a chance, however I'm not one of those and actually like trying these out. While some stories written since her passing were really terrible some of them aren't too bad and good for that trip into the past occasionally. The Girls of Spindrift is one that I don't find that bad at all, not award winning but good to pass the time.
I received an advance copy from the publisher via NetGalley.
Find this book online: 
About the author:
Books published under the following names – Virginia Andrews, V. Andrews, Virginia C. Andrews & V.C. Endrius. Books since her death ghost written by Andrew Neiderman, but still attributed to the V.C. Andrews name
One of the most popular authors of all time, V.C. Andrews has been a bestselling phenomenon since the publication of Flowers in the Attic, first in the renowned Dollanganger family series, which includes Petals on the Wind, If There Be Thorns, Seeds of Yesterday, and Garden of Shadows. The family saga continues with Christopher's Diary: Secrets of Foxworth, Christopher's Diary: Echoes of Dollanganger, and Secret Brother. V.C. Andrews has written more than seventy novels, which have sold over 106 million copies worldwide and have been translated into twenty-five foreign languages.