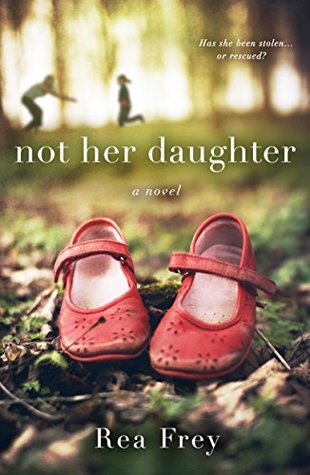 Title: Not Her Daughter
Author:  Rea Frey
Publisher: St. Martin's Griffin
Publication Date: August 21, 2018
Page Count: 352
My rating: 4 1/2 stars
About the book:
Gripping, emotional, and wire-taut, Not Her Daughter raises the question of what it means to be a mother―and how far someone will go to keep a child safe.
Emma Townsend. Five years old. Gray eyes, brown hair. Missing since June.
Emma is lonely. Living with her cruel mother and clueless father, Emma retreats into her own world of quiet and solitude.
Sarah Walker. Successful entrepreneur. Broken-hearted. Kidnapper.
Sarah has never seen a girl so precious as the gray-eyed child in a crowded airport terminal. When a second-chance encounter with Emma presents itself, Sarah takes her―far away from home. But if it's to rescue a little girl from her damaging mother, is kidnapping wrong?
Amy Townsend. Unhappy wife. Unfit mother. Unsure whether she wants her daughter back.
Amy's life is a string of disappointments, but her biggest issue is her inability to connect with her daughter. And now Emma is gone without a trace.
As Sarah and Emma avoid the nationwide hunt, they form an unshakeable bond. But what about Emma's real mother, back at home?
Could there be something such as a good kidnapping? That's the question you will be asking yourself while reading Not Her Daughter by Rea Frey. This story is more of a suspense read than a thriller as you know from the beginning what is going on and it's a matter of waiting it out to see just how it will all turn out.
At the beginning of the book Sarah Walker seems to have abducted a little girl named Emma and as the story unfolds in the current timeline it will also go back and show what led to Sarah doing what she did. You see, Sarah feels what she is doing is her only choice and that Emma desperately needs her to do it.
Going back we find that maybe Sarah wasn't in the perfect state of mind having gone through a break up with a man she saw herself marrying and starting a family with. But what brought Sarah and Emma together were a set of chance encounters in which she witnesses Emma's abusive mother.
Going into this one I saw a few reviewers call this one implausible, but I have to ask why? What is so far fetched to think that one woman sees a beautiful child and goes to extremes to keep that child from pain and suffering? Children go missing every day so are we all so jaded as to believe that one child out there might be better off  and more the victim before they were taken than after?
We all hear the horror stories of what could happen in a home of that nature and Sarah connected and saw something in Emma that she lives with in herself. I could not only see it happening but I had a mental debate with myself the entire story in how I would want it to turn out. The story is quite compelling and changes the point of view between Sarah and Emma's mother so you get to see both sides unfold in the past and present. In the end I would give this one 4.5 stars and recommend checking it out if you want to read a truly thought provoking and compelling story.
I received an advance copy from the publisher via NetGalley.
Find this book online: 
About the author:
Rea Frey is the author of four nonfiction books. Her debut novel, NOT HER DAUGHTER, will be released by St. Martin's Press August 21, 2018.
When she's not exercising, mothering, adulting, wifing, eating, or writing about herself in the third person, you can find her hard at work on her next book and ghostwriting for other people.
Read more at reafrey.com.