Title: Alpha
Author:  Jus Accardo
Publisher: Entangled: Teen
Publication Date: July 3, 2018
Page Count: 304
My rating: 3 1/2 stars
About the book:
Sera has no memory of her life before. Before captivity, before experiments, before the only lifeline she had was the voice of a boy in the cell next to hers. Before G.
G wishes he could forget everything before Sera brought him back to life. Forget his memories as a ruthless mercenary on an alternate version of Earth. Forget that he was part of an experiment simply known as Alpha.
Now on the run from their captors and in need of an antidote to save his life, G and Sera's clock is ticking. And they'll have to gamble everything on the bond they forged in captivity if they want to survive.
The Infinity Division series is best enjoyed in order.
Reading Order:
Book #1 Infinity
Book #2 Omega
Book #3 Alpha
Sera loves G. Dylan loves Ava. But Dylan has taken Sera in hopes she will love him. Why you ask? Because Sera is Ava and Dylan is G. Confused yet? Well, welcome to the world of the Infinity Division.
Alpha by Jus Accardo is the third book of the young adult science fiction/romance series. Each book in the series has taken a page from romance and switched the main characters but it's definitely best to read from book one and unravel the Infinity world from the beginning instead of treating these as standalones as one would do in a romance series.
The Infinity Division was introduced in the first book where those working for Infinity have discovered the ability to jump dimensions. In each dimension the characters all exist but lead very different lives from the first world. G and Sera had fallen in love while captive together whereas Dylan has come from a dimension where the woman of his dreams that he planned on marrying, Ava, had died so he had gone looking for another.
Obviously most fans of science fiction will have heard of different dimensions in one story or another. Most recently The Flash television series comes to mind in which they have Earth 1 and Earth 2 and so on mixed into the shows so I've said from the beginning of this series that while I don't fine it overly original overall it is a fun read. Obviously these rely heavily on the romance to help fuel the action but the story does have a lot of action too. Finishing up this third installment I'd give this one 3.5 stars as it wasn't my favorite but still good in the end.
I received an advance copy from the publisher via NetGalley.
Find this book online: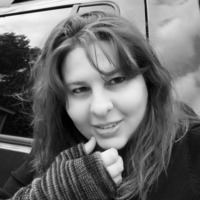 About the author:
US ACCARDO spent her childhood reading and learning to cook. Determined to follow in her grandfather's footsteps as a chef, she applied and was accepted to the Culinary Institute of America. But at the last minute, she realized her true path lay with fiction, not food.
Jus is the bestselling author of the popular Denazen series from Entangled publishing, as well as the Darker Agency series, and the New Adult series, The Eternal Balance. A native New Yorker, she lives in the middle of nowhere with her husband, three dogs, and sometimes guard bear, Oswald.