Title: Road To You
Author: Barbara Ankrum
Publisher: Tule Publishing
Publication Date: June 7, 2018
Page Count: 162
My rating:  3 1/2 stars
About the book:
Investigative reporter Gemma Wade has been dispatched to her own personal purgatory—small town Marietta, Montana—to write a fluffy, romantic piece about the unprecedented spike in marriages there. Being punished for an embarrassing career misstep is bad enough, but it's probably karma that she also stumbles upon Mr. Right in the absolute wrong place.
Noah Mathis is in town for a wedding with his ex-Navy SEAL brothers, but can't get Gemma out of his mind after meeting her at a party. He wants her to be his plus one for the week, even knowing this short reprieve from his real life will end all too soon.
It isn't long before Gemma realizes that Noah isn't who everyone believes him to be. Scooping the story of his true identity may just save her flailing career. But is sacrificing her happily ever after worth it?
Road To You by Barbara Ankrum is the second book in the contemporary romance Band of Brothers series. As with most books of this genre this one features a new couple coming together so it reads rather well as a standalone if choosing to do so.
This story is set in my favorite small town of Marietta, Mt where Gemma Wade and Noah Mathis have crossed paths. Gemma is a reporter that after a bit of a mess up in her last assignment her boss has sent her to Marietta to do a fluff piece on weddings. Thankful to not be fired though Gemma sets off to Montana to try to win back her job.
Noah has come to the charming small town to attend the wedding of some close friends with his other ex Navy Seal team members. When Noah runs into Gemma outside a wedding get together he invites her into the event and Gemma thinks what better way to do a wedding story but from the inside. However, with Gemma not admitting to being a reporter and Noah with his own secrets to hide it will be a rocky start for this couple.
The idea of hiding identities isn't at the top of my list of favorite romance tropes but I was willing to overlook this to take yet another trip to the lovely town of Marietta. Thankfully Noah and Gemma were both likable characters which made it easy to root for each when I got to know them. As always too there were the normal landmarks and charm of the town to fall in love with as the characters grew their relationship making this a nice little quick read I'd rate at 3.5 stars.
I received an advance copy from the publisher via NetGalley.
Find this book online: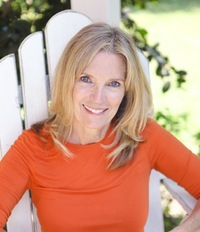 About the author:
Barbara Ankrum grew up in Upstate New York, training to be a ballerina, but secretly dreamed of being an actress. She attributes this to all the Westerns she watched with her city cowboy father and her love of horses. Determined to make it in Hollywood, she moved there after college, where her degree in English Literature did little to help her land her parts. However, she built a career as a successful commercial actress, always on the lookout for a western that needed a ballerina-trained book hound who looked like everyone's next door neighbor.
Many commercials later, she had two amazing children (now grown) with her sweet husband, and, in the downtime between auditions, she started writing. And writing. And writing. The first book she sold was a Western historical romance, and naturally, she cast herself as the lead– in her imagination, of course. But she found that writing complex characters and adventurous stories about the West checked a long empty box for her. Once she sold her first book, she said farewell to Hollywood-Land and never looked back.
She's written both historical and contemporary romances for such New York houses as Zebra/Kensington, Harper Collins and Harlequin/Silhouette and has recently ventured into the indie e-book market with both her backlist and brand new books. In between writing novels, she got her MFA in Creative Writing and optioned a few screenplays. A long-time writing instructor at the prestigious UCLA Extension Writer's Program, she still loves mentoring other writers.
Barbara's emotional, character driven Western historicals (Wild Western Hearts and Wild Western Rogues Series), her sexy, Romantic Suspense for Harlequin and her heartwarming new, 'Montana Born' contemporaries for Tule Publishing, offer a little something for everyone. A #1 Bestseller on Amazon, Barbara's been honored twice with nominations for Romance Writers of America's prestigious RITA Award, and her books have won numerous other writing awards, including Romantic Times' K.I.S.S Awards and was a 2016 finalist in the Gayle Wilson Award of Excellence Contest.
Today, she lives in Southern California with her husband, two rescue cats and a scruffy, adorable rescue dog who supervises every aspect of her writing day.
Please visit her on:
Facebook: https://www.facebook.com/Barbara.ankrum.author
Website: http://www.barbaraankrum.com
Twitter: https://www.twitter.com/BarbaraAnkrum