Title: All the Ever Afters
Author: Danielle Teller
Publisher: William Morrow
Publication Date: May 22, 2018
Page Count: 384
My rating:  4 stars
About the book:
In the vein of Wicked, The Woodcutter, and Boy, Snow, Bird, a luminous reimagining of a classic tale, told from the perspective of Agnes, Cinderella's "evil" stepmother.
We all know the story of Cinderella. Or do we?
As rumors about the cruel upbringing of beautiful newlywed Princess Cinderella roil the kingdom, her stepmother, Agnes, who knows all too well about hardship, privately records the true story. . . .
A peasant born into serfdom, Agnes is separated from her family and forced into servitude as a laundress's apprentice when she is only ten years old. Using her wits and ingenuity, she escapes her tyrannical matron and makes her way toward a hopeful future. When teenaged Agnes is seduced by an older man and becomes pregnant, she is transformed by love for her child. Once again left penniless, Agnes has no choice but to return to servitude at the manor she thought she had left behind. Her new position is nursemaid to Ella, an otherworldly infant. She struggles to love the child who in time becomes her stepdaughter and, eventually, the celebrated princess who embodies everyone's unattainable fantasies. The story of their relationship reveals that nothing is what it seems, that beauty is not always desirable, and that love can take on many guises.
Lyrically told, emotionally evocative, and brilliantly perceptive, All the Ever Afters explores the hidden complexities that lie beneath classic tales of good and evil, all the while showing us that how we confront adversity reveals a more profound, and ultimately more important, truth than the ideal of "happily ever after."
All the Ever Afters: The Untold Story of Cinderella's Stepmother by Danielle Teller is a fantasy retelling. Taking on the idea that every story has different sides readers get to know Cinderella's stepmother from her point of view from childhood until after Cinderella's wedding. I would warn of the sexual content within this one making it for mature readers.
Agnes was born a peasant and while her family found a husband for her sister Agnes was turned over to work as a servant at the age of ten. She spent the next several years working until she met a young man in which she thought she'd fallen in love. With him being above her station though Agnes had little hope of marriage until she fell pregnant with his child.
Over the years Agnes had her children and made a life for herself but it all fell apart for her once again sending her back to working as a servant yet again. It was then Agnes came into Ella's life and eventually married her father becoming her stepmother but things weren't the way for the family that we've all thought.
I'm always a sucker for a great retelling that breaths new life into the classics that we all know and love. All the Ever Afters was not a disappointment at all when it came to twisting the story into something new. As it's said with there being different sides in this one we've known Cinderella's and now we learn Agnes'.
As Agnes goes back in time telling her own story the book reads a lot like historical fiction taking the reader back to a time of Kings, peasants, arranged marriages and all that of the era. There are breaks every few chapters with journal entries updating the current situation as the story spans through the decades of Agnes' life. Looking at things from this angle it would make one wonder what was the truth to the story and did we have it wrong all this time?
I received an advance copy from the publisher via Edelweiss.
Find this book online: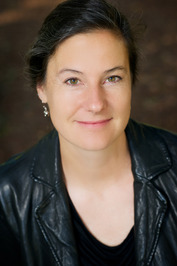 About the author:
Danielle Teller received her medical training at McGill University, Brown University, and Yale University. She has held faculty positions at the University of Pittsburgh and Harvard University. In 2013, Danielle pursued her childhood dream of being a writer. She is the author of one book of nonfiction, Sacred Cows: The Truth about Divorce and Marriage, and has written numerous columns for Quartz. She lives with her husband, Astro Teller, and their four children in Palo Alto, California. All the Ever Afters is her first novel.