All I Want for Christmas by Maggie Knox #bookreview #contemporary #romance #holiday #Christmas
**This post contains Amazon affiliate links which will allow me as an associate to earn a small commission on any purchase made through the link of the products I share. This commission in no way changes the pricing of any items for the buyer.**
Title: All I Want for Christmas
Author: Maggie Knox
Publisher: G.P. Putnam's Sons
Publication Date: October 4, 2022
Page Count: 349
My rating: 4 stars
About the book:
A pitch-perfect holiday rom com about two oil-and-water reality-star country singers who must fake a relationship in order to win the opportunity of a lifetime, perfect for fans of Sally Thorne's The Hating Game and Christina Lauren's In a Holidaze.

Will they hit the right notes this holiday season?

When Sadie and Max are selected as contestants on the famed reality singing show Starmaker, each thinks they've finally gotten their big Nashville break. But then they're paired up for duet week and stun the world with their romantic onstage chemistry. With fans going wild for #Saxie the network demands that they remain a duo on and offstage, or exit the competition. Faking a relationship until their final performance in the Starmaker holiday special shouldn't be too hard, except for one small problem—Sadie and Max can't stand each other. 

But with their dreams just within reach, they agree to the ruse. Will their fake relationship be exposed before they can win? Or might their phony connection turn real by the Christmas finale?
All I Want for Christmas by Maggie Knox is a contemporary romance that does carry over to the Christmas season. The story in All I Want for Christmas is a standalone romance that falls in the enemies to lovers trope along with fake dating. This one is one that is told by alternating the point of view in the book between the two main characters.
Sadie and Max are both musicians who have been waiting for their big break. When both are cast on the television reality show, Starmaker, they both think that this will be their big shot at stardom. Unfortunately for Sadie and Max what the audience wants the most is for the pair to team up and perform together so for the sake of their careers Sadie and Max agree to a fake relationship for the cameras that in turn becomes not so fake for the duo.
All I Want for Christmas by Maggie Knox certainly caught my interest as I love a good reality show, a fake dating trope and a cozy Christmas contemporary. I certainly was glad to take a chance on this one and quickly settled into the story as the unfriendly partnership slid into a more romantic relationship along the way. For the most part the story had a lighthearted nature but it does have some more emotional moments too and was a nice addition to my holiday reading.
I received an advance copy from the publisher via NetGalley.
Find this book online: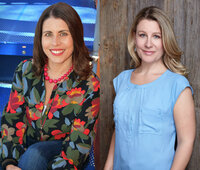 About the author:
Maggie Knox is the pen name for writing duo Karma Brown and Marissa Stapley.
Brown is an award-winning journalist and bestselling author of five novels, including the #1 national bestseller Recipe for a Perfect Wife, as well as the nonfiction bestseller The 4% Fix: How One Hour Can Change Your Life. Her writing has appeared in publications such as Self, Redbook, Today's Parent, and Chatelaine. She lives just outside Toronto with her family and a labradoodle named Fred.
Stapley is a former magazine editor and the internationally bestselling author of four novels: Mating For Life, Things to Do When It's Raining, The Last Resort, and Lucky. Marissa's journalism has appeared in magazines and newspapers across North America, including The Globe and Mail, Toronto Star, Elle, Today's Parent, and Reader's Digest. She lives in Toronto with her family and a precocious black cat named Oscar.