Whole Latte Murder (All-Day Breakfast Café Mystery #5) and Mistletoe Cake Murder (All-Day Breakfast Café Mystery #6) by Lena Gregory #bookreview #mystery
Title: Whole Latte Murder
Author: Lena Gregory
Publisher: Lyrical Press
Publication Date: April 27, 2021
Page Count: 206
My rating: 4 stars
About the book:
Ex-New Yorker and local diner owner Gia Morelli is still getting used to the sweltering Florida sun. But this summer she'll have to deal with a more dangerous kind of heat—when she's hot on the trail of another murderer . . .

Summer in Boggy Creek has arrived, and Gia's best friend, successful real estate agent Savannah, is getting hitched. Now she's enlisted Gia's sleuthing talents in a desperate search for the perfect wedding dress. But when Savannah mysteriously vanishes after showing a mansion to a bigwig client, Gia investigates the house Savannah was trying to sell. The first clue she finds is Savannah's car in the driveway. Inside the house, they stumble on Savannah's potential buyer—dead. Someone had apparently closed the deal—with a two by four full of nails to the client's head. Soon afterward, a woman's body is fished from the lake near the same house. The townsfolk are now sweating bullets over the murders, and the heat comes down on poor Gia to find her missing friend, and track down the killer . . .
Find this book online:
Title: Mistletoe Cake Murder
Author: Lena Gregory
Publisher: Lyrical Press
Publication Date: October 12, 2021
Page Count: 219
My rating: 4 stars
About the book:
'Tis the season for celebrating when Gia Morelli's holidays include both a wedding and yuletide festivities. Until someone naughty delivers a most unwanted Christmas gift—murder. . .

For a native New Yorker, palm trees and warm temperatures don't equal winter, much less Christmastime. Nevertheless, Gia Morelli's friends have decked the halls and trimmed the trees to truly welcome her into their "family" with an old-fashioned Boggy Creek, Florida holiday season. Even more joyous, Savannah Mills is getting married on Christmas Eve—the greatest gift Gia could ever wish for her best friend.

But when Gia and Savannah stop by the caterer for a final tasting a week before the wedding, they overhear another bride arguing with her son about her husband-to-be. Moments later, the woman is sampling a piece of wedding cake—gorgeously decorated with mistletoe frosting—then suddenly dies.

Now Gia's caterer friends are the prime suspects in what appears to be murder by poisoning. To clear their names and ensure Savannah has a merry matrimony will require Gia to conjure up a Christmas miracle . . .

Includes recipes from the All-Day Breakfast Café!
Find this book online:
Whole Latte Murder and Mistletoe Cake Murder by Lena Gregory are the fifth and sixth books in the cozy All-Day Breakfast Café Mystery series. Each book in the series centers around it's own mystery that will be fully solved within the book so they could be read and enjoyed as a standalone. However, there is some continuing character development that carries over from book to book for those that follow the series from the beginning.
The All-Day Breakfast Café Mystery series features Gia Morelli who is a New Yorker at heart but after going through a messy divorce Gia decided to follow her best friend down to central Florida. The small town of Boggy Creek is certainly the exact opposite of what Gia was used to but she was determined to make a success out of her new diner she'd opened, the All-Day Breakfast Café.
Somehow Gia's life in the small town has been balanced between running her cafe, taking care of her puppy Thor and solving murders. In Whole Latte Murder Gia was waiting for her friend Savannah who is a realtor to show a property and then meet Gia to shop. When Savannah didn't show Gia went looking only to find a dead body and no Savannah anywhere to be found. Then in Mistletoe Cake Murder Gia again happens to be near when another woman nearby suddenly died after eating at the business so of course Gia looks into the mysterious death.
The All-Day Breakfast Café Mystery series is another cozy series I have been following from the beginning and really do enjoy. This is one that has that great mix of humor and quirkiness that I enjoy. Of course after six books it's obvious that I enjoy the characters in the stories and there's some cute animal action on occasion too. The location is a different more laid back version of Florida than the touristy side one might expect too with a small town charm. I will definitely keep coming back to this series as long as the author continues to expand it.
I received an advance copy from the publisher via NetGalley.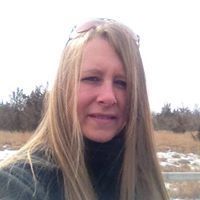 About the author:
Lena Gregory is the author of the Bay Island Psychic Mysteries, which take place on a small island between the north and south forks of Long Island, New York, and the All-Day Breakfast Café Mysteries, which are set on the outskirts of Florida's Ocala National Forest.
Lena grew up in a small town on the south shore of eastern Long Island. She recently relocated to Florida with her husband, three kids, son-in-law, and four dogs. Her hobbies include spending time with family, reading, jigsaw puzzles, and walking. Her love for writing developed when her youngest son was born and didn't sleep through the night. She works full time as a writer and a freelance editor and is a member of Sisters in Crime.
To learn more about Lena and her latest writing endeavors, visit her website at http://www.lenagregory.com/ and be sure to sign up for her newsletter http://lenagregory.us12.list-manage.com/subscribe?u=9765d0711ed4fab4fa31b16ac&id=49d42335d1.
*This is an Amazon affiliate link which will allow me as an associate to earn a small commission on any purchase made through the link of the products I share. That commission in no way changes the pricing of any items for the buyer.