Title: Chickenlandia Mystery
Author: Daisy Pettles
Publisher: Hot Pants Press, LLC
Publication Date: September 15, 2019
Page Count: 193
My rating: 4 stars
About the book:
Chickenlandia, Home of Fifty Happy Hens and one very tired rooster, is under attack. Dewey, the prize rooster is missing, and so too is Ginger, queen of the laying hens. Ruby Jane and Veenie, gal pals, and retired women sleuths in-training at the Shady Hoosier Detective Agency, take on the chicken-napping case. Their mission: track down the chicken thieves and restore Dewey and Ginger to the royal roost before the big festival begins. The case grows pressing when a ruthless chicken rancher pops up dead in a most unlikely place, and the leading suspect, Hiram Krupsky, Chicken Wing King, sets his cap on dating a reluctant Ruby Jane. Laugh-out-loud with the folks in Pawpaw County, Indiana, in Book 3 of this award-winning, humorous cozy mystery series.
Chickenlandia Mystery by Daisy Pettles is the third book in the  cozy Shady Hoosier Detective Agency series. Each book of  this cozy series contains it's own mystery that is solved so they can be understood as a standalone. However, there is character building carried over from book to book for those following from the  beginning.
Our two main characters of the Shady Hoosier Detective Agency mystery series are a couple of "elderly" ladies, Ruby Jane Waskom and Veenie Goens. Best friends all their lives the pair lean on each other with neither being rich and still needing to work to support themselves they have taken on working at the Shady Hoosier Detective Agency, what better job to put to use their nosy natures.
Ruby Jane and Veenie as usual are willing to take on any case that may come their way when things get slow at the Shady Hoosier Detective Agency. This time around the ladies find themselves working on a chicken-napping case when Dewey, a prize rooster, and Ginger, queen of the laying hens, from Chickenlandia have gone missing but when a murder occurs during the investigation the gals are quickly on the case.
This series is for the fans of the over the top humorous cozies that keep a reader laughing from start to finish. Being from Indiana myself I wasn't able to pass up this series and while Knobby Waters is fictional many of the other towns mentioned aren't so I'm familiar with the area and can just imagine these crazy characters there. Of course being a smaller publisher I can see it could use a bit of polish but  the laughs and fun story are more than worth it.
I received an advance copy from the publisher via NetGalley.
Find this book online: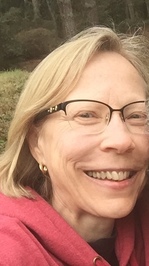 About the author:
Daisy Pettles is the pen name of Vicky Phillips, award winning southern humor and mystery writer. Raised in the tiny farming community of Medora, Indiana, she was fed a steady diet of books, pies, and Bible stories. The Shady Hoosier Detective Agency, humorous novels set in Knobby Waters, Indiana, is her debut cozy mystery series featuring amateur women sleuths Ruby Jane Waskom and Veenie Goens.
AWARDS
Indie Reader Discovery Awards – Best Humor Book 2019
Next Generation Indie Book Awards – Best Humor Book 2019
IPPY Awards – Best Mystery Ebook 2019 Bronze Medal
Eric Hoffer Da Vinci Awards Best Book Cover Design Finalist
Best American Books Finalist Humor 2019