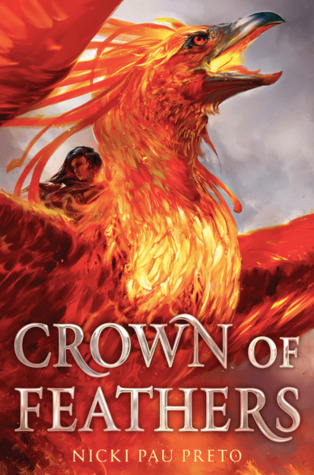 Title: Crown of Feathers
Author: Nicki Pau Preto
Publisher: Simon Pulse
Publication Date: February 12, 2019
Page Count: 496
My rating: 4 1/2 stars
About the book:
An Ember in the Ashes meets Three Dark Crowns in this lush debut fantasy novel about a girl who disguises herself as a boy to join a secret group of warriors that ride phoenixes into battle.
I had a sister, once…
In a world ruled by fierce warrior queens, a grand empire was built upon the backs of Phoenix Riders—legendary heroes who soared through the sky on wings of fire—until a war between two sisters ripped it all apart.
I promised her the throne would not come between us.
Sixteen years later, Veronyka is a war orphan who dreams of becoming a Phoenix Rider from the stories of old. After a shocking betrayal from her controlling sister, Veronyka strikes out alone to find the Riders—even if that means disguising herself as a boy to join their ranks.
But it is a fact of life that one must kill or be killed. Rule or be ruled.
Just as Veronyka finally feels like she belongs, her sister turns up and reveals a tangled web of lies between them that will change everything. And meanwhile, the new empire has learned of the Riders' return and intends to destroy them once and for all.
Sometimes the title of queen is given. Sometimes it must be taken.
Crown of Feathers is an epic fantasy about love's incredible power to save—or to destroy. Interspersed throughout is the story of Avalkyra Ashfire, the last Rider queen, who would rather see her empire burn than fall into her sister's hands.
Crown of Feathers by Nicki Pau Preto is the first book in the young adult fantasy series by the same name. This series takes readers into a world in which the Phoenix exist and introduces the warriors that ride them. The story is told from the multiple points of view of Veronyka, Sev and Tristan.
Veronyka is what is known as an animage who has the ability to communicate with animals. Since the end of the blood war animages have been in hiding and with a lack of Phoenix eggs the once mighty Phoenix warriors are no more but during her years of hiding with her sister, Val, Veronyka wants nothing more than to  become a Phoenix rider.
While Sev is also an animage he has hidden his abilities right in front empire by becoming one of their soldiers. The empire has ruled since the blood war and would stop at nothing to wipe out the animage and riders. Meanwhile, Tristan is part of the small  rebellion of Phoenix riders left in the world and along with Veronyka and Sev all three are on a path to bring them together.
I will be the first to admit being a bit hesitant picking up Crown of Feathers thinking oh boy another lengthy fantasy at close to five hundred pages but instead of my usual slow and  boring rant this one shows why I continue taking a chance. While there might have been a tad bit of a slow start with this one it continued to add to the world, story and characters to keep me entertained. In the end I'll definitely be looking forward to  book two while rating this opener at 4 1/2 stars.
I received an advance copy from the publisher via NetGalley.
Find this book online: 
About the author:
Nicki Pau Preto is a YA fantasy author living just outside Toronto, Canada. After getting a degree in visual arts, a masters in art history, and a diploma in graphic design, Nicki discovered two things: she loves to escape the real world, and she isn't interested in a regular 9-5 life. Luckily, her chosen career covers both.