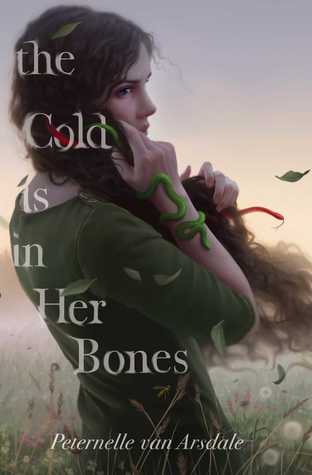 Title: The Cold Is in Her Bones
Author: Peternelle van Arsdale
Publisher: Margaret K. McElderry Books
Publication Date: January 22, 2019
Page Count: 288
My rating: 4 stars
About the book:
One girl must uncover secrets of the past to save her friend from a terrible curse in this dark and mesmerizing story of love, revenge, and redemption inspired by the myth of Medusa.
Milla knows two things to be true: Demons are real, and fear will keep her safe.
Milla's whole world is her family's farm. She is never allowed to travel to the village and her only friend is her beloved older brother, Niklas. When a bright-eyed girl named Iris comes to stay, Milla hopes her loneliness might finally be coming to an end. But Iris has a secret she's forbidden to share: The village is cursed by a demon who possesses girls at random, and the townspeople live in terror of who it will come for next.
Now, it seems, the demon has come for Iris. When Iris is captured and imprisoned with other possessed girls, Milla leaves home to rescue her and break the curse forever. Her only company on the journey is a terrible new secret of her own: Milla is changing, too, and may soon be a demon herself.
Suspenseful and vividly imagined, The Cold Is in Her Bones is a novel about the dark, reverberating power of pain, the yearning to be seen and understood, and the fragile optimism of love.
The Cold Is in Her Bones by Peternelle van Arsdale is a young adult fantasy novel that is inspired by the myth of Medusa. One young girl needs to find the strength to break a curse upon her family and friends before the curse takes her too.
Young Milla has never known anyone other than her immediate family and sometimes that isolation of their remote farm can become overwhelmingly lonely. When Milla's parents agree to let another older couple stay and help them run the farm Milla never expected to have their granddaughter join them too but when Iris arrived Milla found the friend that she always wanted.
With Iris becoming Milla's friend and a possible match for Milla's brother to marry one day things seem to be looking up for Milla and a little less lonely. However, the day comes when Iris begins to show signs of the curse that has haunted the village's young girls all the way out on their farm. When Iris is carted off to a place for the cursed Milla vows to do whatever she can to help her friend.
When thinking of Medusa things like chilling and creepy come to mind and The Cold Is in Her Bones by Peternelle van Arsdale really seemed to capture that eerie feel rather well. This one was a bit of a slow burn read but while it took a bit to return to the darkness that the prologue had given a glimpse into it really had me curious enough that I wanted to continue to get to know the characters and the story. If demons, witches, curses and vengeance sound good then you may want to give this one a try.
I received an advance copy from the publisher via NetGalley.
Find this book online: 
About the author:
Peternelle van Arsdale is the author of the young adult novels THE BEAST IS AN ANIMAL and THE COLD IS IN HER BONES. THE BEAST IS AN ANIMAL is being developed by Amazon Studios for a feature film produced by Ridley Scott's Scott Free and directed by Bert & Bertie. Her essays have been published by LitHub, Hypable.com, and Culturefly. She lives in Brooklyn, NY, where she is at work on her third novel.