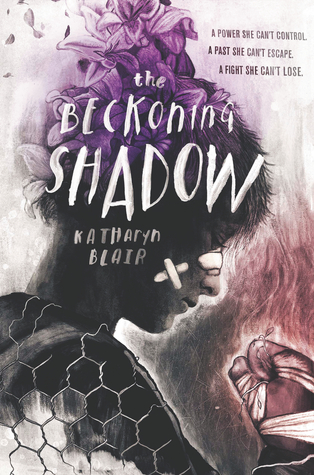 Title: The Beckoning Shadow
Author: Katharyn Blair
Publisher: Katherine Tegen Books
Publication Date: July 2, 2019
Page Count: 480
My rating: 4 stars
About the book:
The Magicians meets Fight Club in this heart-stopping contemporary fantasy stand-alone about a teen girl with special powers who seeks redemption through a dangerous tournament that guarantees the winner a chance to undo the past. Perfect for fans of Cassandra Clare and The Young Elites, and written by debut author Katharyn Blair.
Vesper Montgomery can summon your worst fear and turn it into a reality—but she's learned the hard way that it's an addicting and dangerous power. One wrong move and you could hurt someone you love.
But when she earns a spot in the Tournament of the Unraveling, where competitors battle it out for a chance to rewrite the past, Vesper finally has a shot to reverse the mistakes that have changed her forever. She turns to Sam Hardy, a former MMA fighter who's also carrying a tragedy he desperately wants to undo. However, helping heal Sam's heart will mean breaking her own, and the competition forces her to master her powers—powers she has been terrified of since they destroyed her life.
The Beckoning Shadow by Katharyn Blair is a young adult fantasy with of course a bit of romance added to the mix. The ideas and world building in this one weren't overly new or original but it was still a fun story to read.
Vesper Montgomery had left her home and the family she loved in fear that she may hurt them when she discovered she was one of the few in the world to gain powers. Vesper had the ability to summon ones worst fears but not being in control of her powers make them that much more dangerous.
Vesper really had no plan when she left home but when she comes across the Tournament of the Unraveling she thinks she's found the answer she had been looking for. Those entering the tournament are battling for a chance to rewrite the past and for Vesper that could mean she could return to her family.
The idea that characters could suddenly find themselves with special powers and having a variety of powers to those oddities really kept reminding me of The Gifted. This world is much the same with the powerful feared by the normal and trying to hide those powers so as I mentioned this isn't really a new wow factor when it comes to the overall idea behind the series. However, the characters and their stories were compelling enough to want to continue reading and kept the pages turning along so in the end I still enjoyed this one.
I received an advance copy from the publisher via Edelweiss.
Find this book online: 
About the author:
Katharyn Blair is a novelist and screenwriter. She graduated with her MFA in 2015 and is finishing her MA in literature. She's been a social media coordinator for several films at 20th Century Fox, an intern at her city's Parks and Recreation Department, a gymnastics coach, and, most recently, a writing professor at Azusa Pacific University. She lives outside of Los Angeles with her family. The Beckoning Shadow is her debut novel.