Title: The Angel Island
Author: Michelle Madow
Publisher: Dreamscape Publishing
Publication Date:  December 31, 2018
Page Count: 270
My rating:   4 stars
About the book:
The journey to Avalon is full of trials, and not everyone who ventures there is welcome.
After escaping the bunker where she was held captive by demons, Raven's finally safe with Noah, the wolf shifter she imprinted upon. And they saved all the other prisoners in the process.
Their next destination? The mythical island of Avalon. There, Raven will enter the Angel Trials so she can become a Nephilim and help fight in the war against the demons.
But it turns out the trials don't start on the island. They start before it. Because only the worthy are allowed entrance to Avalon.
Many challenges await. Challenges that will separate every person in their group, push them harder than they imagined possible, and force them to make insanely difficult decisions.
Who will be worthy enough to enter Avalon? Who will be turned away?
Find out in The Angel Island, a magical urban fantasy adventure with twists and turns you'll never see coming!
The Angel Island by Michelle Madow is the fifth book of the Dark World: The Angel Trials series. This series is a spin off of Michelle's Dark World: The Vampire Wish series but I don't think it's totally necessary to have read The Vampire Wish series to understand this series since the author does enough explaining  for the crossover parts. However, those that do read both series are certainly getting a much deeper look at all of what had happened to lead to this series.
Like the previous series The Angel Trials is a urban paranormal fantasy read that  includes shifters, witches and demons, vampires and nephilm. The story in this series is centered around Raven Danvers, a human, who was about to celebrate her 21st birthday. Raven's mother claimed that she is a witch and insisted that Raven would gain powers soon enough but Raven was skeptical of magic. However when Raven was confronted by demons and saved by Noah, who is on a demon hunting task from Annika, Raven's eyes were opened to a whole new world.
As with all of Michelle Madow's books the story is an incredibly fast paced and action packed adventure that still wonderfully builds the world and characters along the way. Each book will end with a jaw dropping cliffhanger that leaves readers anxious for the next in the series but then the next builds the action up even more and more. All of the books of the series have multiple points of view with Raven having been the strongest voice but to me each voice is definitely unique. Again after another exciting end there will be more to look forward to in book six of the series and I will try to be patient until the story continues.
I received an advance copy from the author, many thanks to Michelle Madow for allowing me to once again read early.
Find this book online: 
Other books in the series: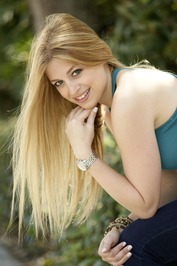 About the author:
Michelle Madow is a USA Today bestselling author of fast paced fantasy novels that will leave you turning the pages wanting more!
She grew up in Maryland and now lives in Florida. Some of her favorite things are: reading, traveling, pizza, time travel, Broadway musicals, and spending time with friends and family. Someday, she hopes to travel the world for a year on a cruise ship.
Visit her website, www.michellemadow.com, to get books of Michelle's for FREE!