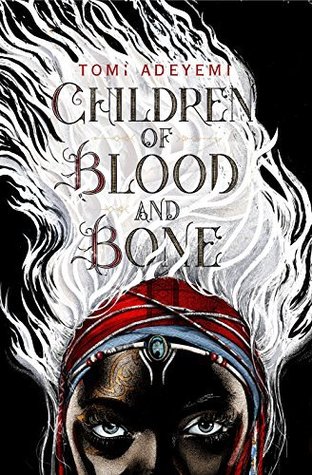 Title: Children of Blood and Bone
Author:  Tomi Adeyemi
Publisher: Henry Holt and Co.
Publication Date:March 6, 2018
Page Count: 537
My rating: 3 stars
About the book:
With five starred reviews, Tomi Adeyemi's West African-inspired fantasy debut, and instant #1 New York Times Bestseller, conjures a world of magic and danger, perfect for fans of Leigh Bardugo and Sabaa Tahir.
They killed my mother.
They took our magic.
They tried to bury us.
Now we rise.
Zélie Adebola remembers when the soil of Orïsha hummed with magic. Burners ignited flames, Tiders beckoned waves, and Zélie's Reaper mother summoned forth souls.
But everything changed the night magic disappeared. Under the orders of a ruthless king, maji were killed, leaving Zélie without a mother and her people without hope.
Now Zélie has one chance to bring back magic and strike against the monarchy. With the help of a rogue princess, Zélie must outwit and outrun the crown prince, who is hell-bent on eradicating magic for good.
Danger lurks in Orïsha, where snow leoponaires prowl and vengeful spirits wait in the waters. Yet the greatest danger may be Zélie herself as she struggles to control her powers and her growing feelings for an enemy.
Well, here I go once again swimming against the masses with another hyped up and much talked about and loved title. Perhaps I should just stay away from the high fantasy reads since more often than not I tend to find myself fighting to stay engaged in the long drawn out stories but oh how I'd hate to miss out on those truly action packed gems that I do know exist out there.
Children of Blood and Bone by Tomi Adeyemi is the first book of the young adult fantasy Legacy of Orïsha series. This book has gained most of it's praise based off it's diverse setting and characters and I will readily admit that is the best part of the book. Tomi Adeyemi has created her world within the pages based upon West African heritage and she did do a wonderful job setting that scene and incorporating it into the story.
However, if I took the setting out of the equation when reading the story the rest of the plot when getting down to the meat and bones seemed to be pretty standard cookie cutter young adult fantasy to me. We have a ruthless King killing off everyone using magic to gain more control and power of his land. I have read that one many times before and probably will many times again.
In this story Zelie is one that has magic and is in danger from the King, Amari is the King's daughter and runs off with a scroll when she witnesses just how cruel her father can be and Inan is the Prince out to prove he deserves his father's thrown and sets out to find his sister and kill Zelie. The point of view changes between the three which should have led to a faster pace following both sides but at over five hundred pages it just felt dragged out to me. Then with a cliffhanger ending to lead into the next book of the series when all was said and done the best I could say is despite the amazing set up it was just an OK start to the series for me.
Find this book online: 
About the author:
Tomi Adeyemi is a Nigerian-American writer and creative writing coach based in San Diego, California. After graduating Harvard University with an honors degree in English literature, she studied West African mythology and culture in Salvador, Brazil. She is the author of Children of Blood and Bone.