Title: Big Driver
Author: Stephen King
Publisher: Scribner
Publication Date: September 30, 2014
Page Count: 217
My rating: 4 stars
About the book:
Now a Lifetime original movie, Stephen King's haunting story about an author of a series of mystery novels who tries to reconcile her old life with her life after a horrific attack and the one thing that can save her: Revenge.
Tess Thorne, a famous mystery writer, faces a long drive home following a book signing engagement. Advised to take a shortcut at the suggestion of the event's planner, Tess sets out for home, well after dark. On a lonely stretch of New England road, her tire blows out, and when a man in a pick up stops, it is not to help her, but to repeatedly assault her and leave her for dead. Tess survives, and she plots a revenge that will bring her face-to-face with another stranger: the one inside herself, capable of gruesome violence.
This story was originally published in Stephen King's acclaimed collection, Full Dark, No Stars.
Big Driver by Stephen King is a bit of a cross between a horror and thriller as the events involved certainly are considered horrific but are very real. And that leads to the content warning with this story being about rape but with also a lot of violence.
Tess Thorne is a famous author and has been out at a promotional event signing autographs and answering questions from the fans. After the event while Tess is driving she takes a route suggested to get her home faster but runs into some trouble with debris in the road.
With a blown out tire and a rarely traveled road Tess has images of many horror movies in her mind but tells herself to calm down. When another driver comes along Tess hopes for help but instead finds herself living out her worst nightmare.
Big Driver is one of those books that was quite thought provoking. As much as one could question why did you do this or that rape is something that does happen and as horrible as that is the victims then have to live with what happened to them. King took this thought and gave one extreme reaction to the event that was compelling to read with a few twists and turns along the way.
Find this book online: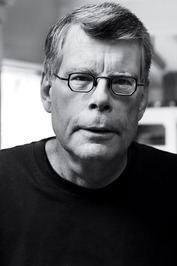 About the author:
Stephen King is the author of more than sixty books, all of them worldwide bestsellers. His recent work includes The Outsider, Sleeping Beauties (cowritten with his son Owen King), the Bill Hodges trilogy End of Watch, Finders Keepers, and Mr. Mercedes (an Edgar Award winner for Best Novel and an AT&T Audience Network original television series). His novel 11/22/63 was named a top ten book of 2011 by The New York Times Book Review and won the Los Angeles Times Book Prize for Mystery/Thriller. His epic works The Dark Tower and It are the basis for major motion pictures, with It now the highest grossing horror film of all time. He is the recipient of the 2018 PEN America Literary Service Award, the 2014 National Medal of Arts, and the 2003 National Book Foundation Medal for Distinguished Contribution to American Letters. He lives in Bangor, Maine, with his wife, novelist Tabitha King.