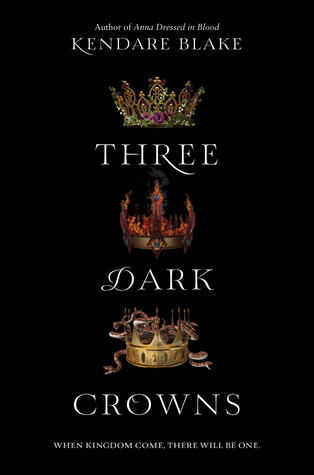 Title: Three Dark Crowns
Author: Kendare Blake
Publisher: HarperTeen
Publication Date: September 20, 2016
Page Count: 407
My rating: 3 stars
About the book:
New York Times Bestseller * New York Public Library Best Book of 2016 * Chicago Public Library Best Book of 2016 * Kirkus Best Book of the Year
Fans of acclaimed author Kendare Blake's Anna Dressed in Blood will devour Three Dark Crowns, a dark and inventive fantasy about three sisters who must fight to the death to become queen. And don't miss the highly anticipated sequel, One Dark Throne!
In every generation on the island of Fennbirn, a set of triplets is born: three queens, all equal heirs to the crown and each possessor of a coveted magic. Mirabella is a fierce elemental, able to spark hungry flames or vicious storms at the snap of her fingers. Katharine is a poisoner, one who can ingest the deadliest poisons without so much as a stomachache. Arsinoe, a naturalist, is said to have the ability to bloom the reddest rose and control the fiercest of lions.
But becoming the Queen Crowned isn't solely a matter of royal birth. Each sister has to fight for it. And it's not just a game of win or lose…it's life or death. The night the sisters turn sixteen, the battle begins. The last queen standing gets the crown.
Three Dark Crowns by Kendare Blake is the first book of the young adult fantasy Three Dark Crowns series. This one would be a darker fantasy tale seeing that the story centers around the three sisters needing to kill each other.
On the island of Fennbirn every generation a new set of triplets is born bringing on a new generation of royalty. Each of the sisters is born with a magical gift and has a right to the crown and becoming Fennbirn's next queen but in order to rule they must kill their siblings.
The three potential queens were raised separately and are now coming upon their sixteenth birthdays at which time the battle for the crown begins. Mirabella is a  elemental, Katharine is a poisoner, and Arsinoe, a naturalist but each has to master their suspected skill and then conquer the others to take the crown.
Now, one thing Three Dark Crowns has going for it is the fact that it certainly does seem to be an original idea with the sisters competing. A bit brutal to grow up knowing your closest relative it an enemy in your future. The fact that the three were separate made a rather complex and slow start to the story bringing not only their characters into the world building but all those surrounding them too. Honestly it was tough to keep track of who was who but eventually the pace picks up with more action in the second half with a bit of a cliffhanger end to lead into book two.
Find this book online: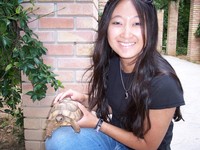 About the author:
Kendare Blake grew up in the small city of Cambridge, Minnesota. She is a graduate of Ithaca College, in Ithaca, New York and received a Master of Arts in Creative Writing from Middlesex University in London, England. She loves to travel, is an advocate for animals, and cheats a lot when she plays Final Fantasy. Adopted from South Korea at the age of seven months, she arrived with the following instruction: "Feed her chocolate." Though not medically advisable, she and her parents are eternally grateful for this advice.
Kendare is the author of six novels: the contemporary SLEEPWALK SOCIETY, YA horror duo ANNA DRESSED IN BLOOD (2011 NPR Top 5, Kirkus Top Ten), and GIRL OF NIGHTMARES (2012 Kirkus Reviews Top Ten), and the Goddess War trilogy (ANTIGODDESS, MORTAL GODS, UNGODLY).
Coming in September 2016: THREE DARK CROWNS, the first book in a fantasy series about warring triplet queens.