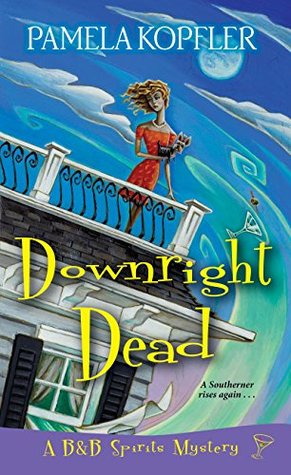 Title: Downright Dead
Author: Pamela Kopfler
Publisher: Kensington
Publication Date: September 25, 2018
Page Count: 320
My rating: 4 stars
About the book:
Holly Davis never imagined having a haunted bed and breakfast would be the secret to her success—or that a secret might leave her B&B DOA . . .
 
After the syndicated TV show Inquiring Minds airs footage of their resident ghost at Holly Grove, a converted antebellum plantation house, it seems as if half the state of Louisiana wants to book a room. There's only one small problem: the ghost of her not-so-dearly-departed husband Burl has . . . departed. For the sake of business, Holly's willing to keep up the pretense of still being haunted. But after an outspoken debunker challenges the show's credibility, the TV crew returns to Holly Grove to prove the ghost is real.
Following a disastrous séance, Holly is sure she'll be exposed as a charlatan. Surprisingly, the debunker suddenly becomes a believer—after he's pushed off the widow's walk to his death and rises as a ghost. Now his inquiring mind wants to know: who murdered him? When he asks for Holly's help, she can't say no. But this time it's her turn to watch her step, because if the killer gets spooked, the next ghost haunting the B&B may well be its owner . . .
Downright Dead by Pamela Kopfler is the second book of the A B&B Spirits Mystery series. This series is a paranormal cozy mystery series with a main character determined to solve crime with the help of a resident ghost in her B&B.
Holly Davis wasn't too happy when her ex husband Burl began to haunt her B&B after his death but who knew that a ghost was just what business needed. A ghost chasing TV crew did a show on the B&B and business was booming but unfortunately for Holly Burl crossed over after his death was solved.
Now Holly is doing whatever she can to pretend there's still a ghost at Holly Grove to keep the business coming in. The last thing Holly needed however was the television crew to want to come back when a debunker makes the claim they faked the show but with a clause in her contract Holly can't do anything but invite them all back to film again and finds herself yet again trying to solve a murder when things get out of hand.
Downright Dead was a great follow up to the first book in the series as far as bringing back the likable characters with a bit of humor mixed into a mystery. I would say this one was rather slow going though in getting to the mystery side but the haunted/unhaunted B&B story line was plenty to stay entertained with until the murder came along. I'll definitely be looking forward to more spooky hijinks to come from the series.
I received an advance copy from the publisher via NetGalley.
Find this book online: 
About the author:

Pamela Kopfler was born a Texan and tumbled through twelve schools all over the U.S. before she finished high school, but she's a Southerner—through and through. Now, she calls South Louisiana her home and writing her passion. When not spinning her next tale, she enjoys reading, weight training, traveling, target shooting, hiking, gardening, painting, and dining at dives to five-star restaurants. Visit her at http://www.pamelakopfler.com.