Title: Star-Crossed
Author: Pintip Dunn
Publisher: Entangled: Teen
Publication Date: October 2, 2018
Page Count: 368
My rating: 4 1/2 stars
About the book:
Princess Vela's people are starving.
Stranded on a planet that lacks food, Vela makes the ultimate sacrifice and becomes an Aegis for her people. Accepting a genetic modification that takes sixty years off her life, she can feed her colony via nutrition pills. But her best friend is still getting worse. And she's not the only one.
Now the king is dying, too.
When the boy she's had a crush on since childhood volunteers to give his life for her father's, Vela realizes her people need more than pills to survive. As tensions rise between Aegis and colonists, secrets and sabotage begin to threaten the future of the colony itself.
Unless Vela is brave enough to save them all…
Star-Crossed by Pintip Dunn is a young adult romantic science fiction fantasy. And guess what folks, no insta-love and no love triangles! Yes, I know, color me shocked as well. And on top of all of that a creepily compelling sci-fi angle to the world building.
The story is set on a distant planet in which the inhabitants including our main character, Princess Vela, have lived since leaving Earth years and years before. The problem on the planet is there is a shortage of food and with not enough to feed everyone they have developed a system in which only a handful eat the food and then nutrients are extracted from them to make pills to sustain the rest of the colonists.
The eaters of the colony are the Aegis and the downside for them enjoying food is that they lose a huge chunk of their life span. Being the daughter of the King Vela trained early to become an Aegis and she and her sister, Blanca, are now competing to become the next Successor to their father. Vela and Blanca are exact opposites and now they've been given tasks that will them to their own limits.
Having read a couple of other books my Pintip Dunn and really enjoying them I was really looking forward to seeing what this one held. After finishing I can honestly say I don't think I've ever come across anything anywhere similar to the world created in this story so an A+ for creativity. I was easily immersed in this world and really came to like the characters and root for them along the way and with a gut wrenching end to the story this one rated at 4.5 stars for me, definitely recommend giving it a try!
I received an advance copy from the publisher via NetGalley.
Find this book online: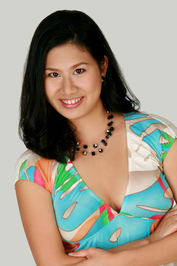 About the author:
When her first-grade teacher asked her what she wanted to be when she grew up, Pintip replied, "An author." Although she has pursued other interests over the years, this dream has never wavered.
Pintip graduated from Harvard University and received her J.D. at Yale Law School. She published an article in the YALE LAW JOURNAL, entitled, "How Judges Overrule: Speech Act Theory and the Doctrine of Stare Decisis," and received the Barry S. Kaplan Prize for best paper in Law and Literature.
Pintip is a 2012 Golden Heart® finalist and a 2014 double-finalist. She lives with her husband and children in Maryland.