I Do Not Trust You by Laura J. Burns and Melinda Metz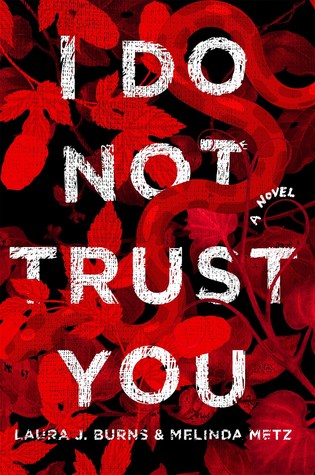 Title: I Do Not Trust You
Author: Laura J. Burns and Melinda Metz
Publisher: Wednesday Books
Publication Date: September 11, 2018
Page Count: 320
My rating:   3 1/2 stars
About the book:
With Laura J. Burns and Melinda Metz's signature plot twists, and uneasy, ever-changing alliances, I Do Not Trust You is a thrilling journey at every turn that asks―what would you do to save the ones you love?
Memphis "M" Engel is stubborn to a fault, graced with an almost absurd knowledge of long lost languages and cultures, and a heck of an opponent in a fight. In short: she's awesome.
Ashwin "Ash" Sood is a little too posh for M's tastes, a little too good looking, and has way too many secrets. He desperately wants the ancient map M inherited from her archeologist father, believing it will lead him to a relic with the power to destroy the world. M obviously can't trust him.
Equally desperate to find the relic for reasons of her own, M forms an uneasy partnership with Ash. From the catacombs of Paris, to a sacred forest in Norway, to the ruins of a submerged temple in Egypt, together they crisscross the globe in their search. But through it all, M can never be sure: Is she traveling with a friend or enemy?
I Do Not Trust You by Laura J. Burns and Melinda Metz is a young adult action and adventure fantasy that is based off of mythology. Think of this one as sort of a female teenage Indiana Jones type of character trotting around the globe to save the day from ancient gods.
Memphis "M" Engle was raised by globetrotting parents and was speaking multiple languages and exploring ancient ruins right after she learned to walk and talk. Trained in martial arts and smarter than her teachers M should have been following in her parents footsteps but after losing her mother first and then her father in an accident M is being raised by guardians that just want her to be a "normal" high school student.
However, one night when leaving a party M feels she's being followed and before she knows it she finds herself confronting Ashwin Sood. Equipped with a note written in a language only M and her father know Ash convinces M that her father is alive and the only way to rescue him is to track down the pieces of an ancient statue.
I Do Not Trust You is the second book I've read by this author duo and one thing I definitely can say is they certainly do get creative. I loved that this one was based on mythology with the dueling cults looking to acquire the missing artifacts and our teen duo set off on an adventure. I think for me though what led me to give this one 3.5 stars was after the first couple of stops the story seemed to just level out and lost a little of the wow factor. Overall though it was certainly a fun read that I enjoyed.
I received an advance copy from the publisher via NetGalley.
Find this book online: 
About the authors:
LAURA J. BURNS and MELINDA METZ have written many books for teens and middle-grade readers, including Sanctuary Bay, Crave, and Sacrifice, as well as the Edgar-nominated mystery series Wright and Wong. They have also written for the TV shows ROSWELL, 1-800-MISSING, and THE DEAD ZONE. Laura lives in New York and Melinda lives in North Carolina, but really they mostly live on email, where they do most of their work together.