Title: Confess
Author: Colleen Hoover
Publisher: Atria Books
Publication Date: March 10, 2015
Page Count: 321
My rating:   4 stars
About the book:
Winner of the 2015 Goodreads Choice Award for Best Romance
From #1 New York Times bestselling author Colleen Hoover, a new novel about risking everything for love—and finding your heart somewhere between the truth and lies.
At age twenty-one, Auburn Reed has already lost everything important to her. In her fight to rebuild her shattered life, she has her goals in sight and there is no room for mistakes. But when she walks into a Dallas art studio in search of a job, she doesn't expect to find a deep attraction to the enigmatic artist who works there, Owen Gentry.
For once, Auburn takes a chance and puts her heart in control, only to discover that Owen is keeping a major secret from coming out. The magnitude of his past threatens to destroy everything important to Auburn, and the only way to get her life back on track is to cut Owen out of it.
To save their relationship, all Owen needs to do is confess. But in this case, the confession could be much more destructive than the actual sin.
Confess by Colleen Hoover is a standalone new adult contemporary romance. As anyone who is familiar with Colleen Hoover may know the story is one that is full of emotion starting from the opening pages.
The prologue sets the story in which Auburn Reed had been deeply in love at the very young age of fifteen. That love however was one that set the tone for the rest of Auburn's life when he passed away in the hospital after a terminal diagnosis.
Now at twenty one Auburn is doing her best to get her life on track working in a salon cutting hair and looking for another job. When she happens upon an art studio with a help wanted sign it seems to be fate. What Auburn didn't expect was to start falling for the young artist, Owen and the need for both to confess their secrets if they are to share a future.
I don't want to give away too much of the story beyond the developing relationship between the characters but I will say there are things in here that had me hooked once they are mentioned. There is definite emotion involved with the struggles both characters are going through and like many a mystery read this romance throws in some twists for the characters to overcome. Definitely a page turner of a story that I'd recommend checking out.
Find this book online: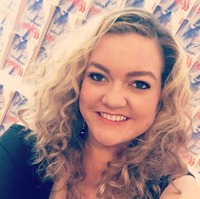 About the author:
Colleen Hoover is the New York Times bestselling author of nine novels, including the #1 bestseller, Hopeless. She lives in Texas with her husband and three children. She is the founder of The Bookworm Box, a book subscription service which donates 100% of its proceeds to charity. She also owns The Bookworm Box, a specialty bookstore located in Sulphur Springs, Tx.
Mrs. Hoover's highly anticipated novel, It Ends With Us, releases August 2nd, 2016 and is currently available for preorder.
Her novel, Ugly Love (2014), has been optioned for film by Hackybox Pictures and is slated to begin filming in 2016, starring Nick Bateman.
You can follow Colleen on her very active Facebook page at facebook.com/authorcolleenhoover and on Instagram and Twitter @colleenhoover
For tour dates or more information, please visit colleenhoover.com.