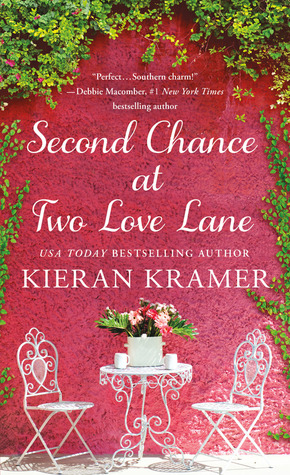 Title: Second Chance At Two Love Lane
Author: Kieran Kramer
Publisher: St. Martin's Paperbacks
Publication Date: August 28, 2018
Page Count: 329
My rating: 4 stars
About the book:
From USA Today bestselling author Kieran Kramer, comes Second Chance at Two Love Lane, a fast-paced tale about the intoxicating effects of fame and what happens when a past romance is rekindled behind the silver screen.

Sometimes love is waiting in the second act…
In her professional career, Ella Mancini plays matchmaker at Two Love Lane but, in her personal life, she takes the stage at the Dock Street Theatre. Now she has a chance at a new role in a Hollywood movie that happens to be filming in Charleston—one that features a big-name actress, Samantha Drake. Long ago, Ella passed up a major audition while awaiting a marriage proposal. Not only didn't she get the role; she never got the ring, either. Instead, her boyfriend Hank went on to become a huge film star…leaving her, and all her dreams, behind.
But now Hank's back in Charleston, cast as the male lead in the same movie Ella's in. In spite of the dramatic tension off-screen, he and Ella try to stay cool onset. But when their old feelings start to heat up—at the same time leading-lady Samantha tries to play cupid—all bets are off. How can Hank convince Ella, after all this time, that she's the one he really wants to be with in real life—and that some happy, rom-com endings really can come true?
Second Chance At Two Love Lane by Kieran Kramer is the third installment of the contemporary romance Two Love Lane series. As with most romance series each book contains a different leading couple and could be read as a standalone novel if choosing to do so but there are mentions of previous characters in the series for those that follow all the way through.
The Two Love Lane series is centered around the ladies running the Two Love Lane dating agency in beautiful Charleston, SC. Being matchmakers themselves and priding themselves upon finding others true love they all have needed a little push to kick start their own love stories and this one would be Ella's.
Outside of working at the dating agency Ella has always enjoyed acting but a career in the business never happened when she missed a huge role waiting for an old boyfriend to propose. When Ella gets the chance at a small part in a movie filming in the area she is of course excited but becomes a bundle of nerves when finding that same old flame, Hank, is the lead. After all these years the feelings are still there but will the call of fame pull them apart once again?
Having followed his series from the beginning I already knew going in that I enjoyed Kieran Kramer's writing style so that part of the story wasn't a surprise to me. Also, the ladies of Two Love Lane have become like friends at this point so the setting and characters are also ones that I knew in advance I would love. What was different here was Ella's story being one of a second chance love story and those are often my favorites so I was definitely engaged from the beginning and when done I do think romance fans will enjoy this series overall with each read being unique and enjoyable.
I received an advance copy from the publisher via NetGalley.
Find this book online: 
About the author:
USA Today bestselling author Kieran Kramer writes fun romance novels for St. Martin's Press. SECOND CHANCE AT TWO LOVE LANE is on sale August 28, 2018! A former journalist and English teacher, Kieran's also a game show veteran, karaoke enthusiast, and general adventurer. She lives where she grew up-in the Lowcountry of South Carolina-with her family. Find her on Instagram (her favorite place to hang out), as well as on Facebook, Pinterest, Twitter, and at https://kierankramer.com.