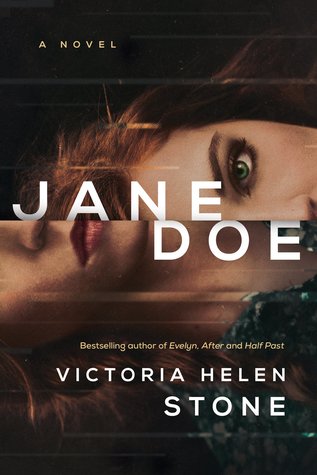 Title: Jane Doe
Author: Victoria Helen Stone
Publisher: Lake Union Publishing
Publication Date: August 1, 2018
Page Count: 264
My rating: 4 stars
About the book:
A double life with a single purpose: revenge.
Jane's days at a Midwest insurance company are perfectly ordinary. She blends in well, unremarkably pretty in her floral-print dresses and extra efficient at her low-level job. She's just the kind of woman middle manager Steven Hepsworth likes—meek, insecure, and willing to defer to a man. No one has any idea who Jane really is. Least of all Steven.
But plain Jane is hiding something. And Steven's bringing out the worst in her.
Nothing can distract Jane from going straight for his heart: allowing herself to be seduced into Steven's bed, to insinuate herself into his career and his family, and to expose all his dirty secrets. It's time for Jane to dig out everything that matters to Steven. So she can take it all away.
Just as he did to her.
Jane Doe by Victoria Helen Stone is a straight forward thriller featuring a self proclaimed sociopath. Jane has taken a job at an insurance company in order to get close to the manager of the company, Steven Hepsworth.
Steven is the man that stole everything from Jane in the blink of an eye. How do you ask? By breaking Jane's best friend's heart. In that moment Jane knew that she needed to do to Stephen just what he did to her to make him pay.
Picking up Jane Doe I didn't realize that Victoria Helen Stone was actually such a well established author under the name Victoria Dahl or I might have suspected that this would be really great writing going into it. Instead I was more than pleasantly surprised to find myself quickly pulled into the story and completely engrossed in Jane's revenge.
Now as the story went on Jane was always there to remind us that she is a sociopath out for revenge but quite honestly I actually found myself rooting for her the entire way. Normally one would be cringing at the dark character in a book like this but nope, it was go Jane go! When finished I'd definitely recommend this one to those that enjoy a more straight forward thriller where you sit back in anticipation waiting to see how far it will go.
I received a copy from the publisher via NetGalley.
Find this book online: 
About the author:
Victoria Helen Stone is the nom de plume for USA Today bestselling author Victoria Dahl. After publishing more than twenty-five novels, she is now taking a turn toward the darker side of genre fiction. Born and educated in the Midwest, she finished her first manuscript just after college. In 2016, the American Library Association awarded her the prestigious Reading List Award for outstanding genre fiction. Having escaped the plains of her youth, she now resides with her family in a small town high in the Rocky Mountains, where she enjoys hiking, snowshoeing, and not skiing (too dangerous).