Title: Seafire
Author: Natalie C. Parker
Publisher: Razorbill
Publication Date: August 28, 2018
Page Count: 384
My rating: 5 stars
About the book:
The first in a heart-stopping trilogy that recalls the undeniable feminine power of Wonder Woman and the powder-keg action of Mad Max: Fury Road, Seafire follows the captain of an all-female ship intent on taking down a vicious warlord's powerful fleet. 
After her family is killed by corrupt warlord Aric Athair and his bloodthirsty army of Bullets, Caledonia Styx is left to chart her own course on the dangerous and deadly seas. She captains her ship, the Mors Navis, with a crew of girls and women just like her, who have lost their families and homes because of Aric and his men. The crew has one mission: stay alive, and take down Aric's armed and armored fleet.
But when Caledonia's best friend and second-in-command barely survives an attack thanks to help from a Bullet looking to defect, Caledonia finds herself questioning whether to let him join their crew. Is this boy the key to taking down Aric Athair once and for all…or will he threaten everything the women of the Mors Navis have worked for?
Pairing gorgeous prose with pulse-pounding action, Seafire reminds us of the importance of sisterhood and unity in the face of oppression and tyranny.
Something that not everyone may know is that I have a huge pirate fetish, always have and always will. When seeing Seafire by Natalie C. Parker the first time I knew this was a must read, a whole trilogy of bad@ss female pirates?? I couldn't get a copy fast enough and thankfully I did because wow, this was amazing!
They story begins a few years in the past as Caledonia Styx and her friend are sent by Caledonia's mother to shore to search for food on what they believe is a deserted island. Caledonia is confronted by a bullet, a soldier in Aric Athair's army. Being not much more than a kid Caledonia falls for his lies and it costs everyone aboard her family's ship their lives.
Fast forward to the current day with Caledonia having survived that bullet attack years before and she and her friend having formed their own crew aboard what is now Caledonia's ship. The entire crew has been made up of girls just like Caledonia who have lost those close to them to Aric Athair's army and now they fight back every chance they get.
After reading Seafire I can safely say that it was everything I could have hoped for and more. The story is intense as these ladies are everything you could wish for in an amazing pirate crew battling with everything they have. The world building quickly brought me into the adventure on the sea in a world controlled by a tyrant. The characters quickly became friends and family just the way they are to one another. And to top this all off this one just screams female empowerment with the girls doing everything men could and more since they are the only ones fighting back and not caving to the demands of a cruel and unjust world. Nothing more to say other than read this one, you will not regret it at all!
I received an advance copy from the publisher via Penguin's First to Read.
Find this book online: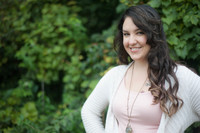 About the author:
Natalie C. Parker is the author of the Beware the Wild duology, the Seafire trilogy, and the editor of Three Sides of a Heart. She earned her BA in English literature from the University of Southern Mississippi and her MA in gender studies from the University of Cincinnati. She grew up in a Navy family finding home in coastal cities from Virginia to Japan. Now, she lives surprisingly far from any ocean on the Kansas prairie where she runs Madcap Retreats with her wife. She tweets @nataliecparker.