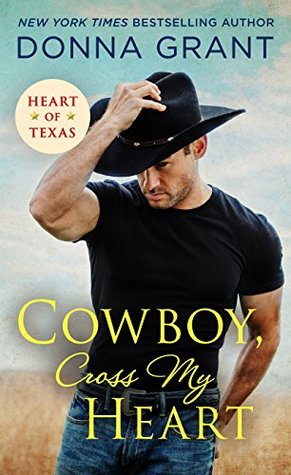 Title: Cowboy, Cross My Heart
Author: Donna Grant
Publisher: St. Martin's Paperbacks
Publication Date: August 28, 2018
Page Count: 304
My rating: 5 stars
About the book:
New York Times bestselling author Donna Grant takes you deep inside the Texas rodeo scene in the second book in her Heart of Texas series, Cowboy, Cross My Heart, where danger and desire ride side by side. . .
Naomi Pierce isn't the type to let a cowboy sweep her off feet. It's not her first rodeo, after all. But when she returns to her Texas hometown, she can't help but be swept up again in the rough-and-tumble world of hard-riding, bronco-busting good-ol'-boys she loved as a girl. She might be here to photograph her Rodeo Queen best friend. But it's one fine-looking cowboy who really captures her eye…
Brice Harper is all man, all muscle, and all heart. From the moment he rides into the stadium, he can't help but notice the beautiful stranger with a camera watching him from the stands. It doesn't take a zoom lens to see the sparks of instant attraction. But things really heat up when he meets Naomi up-close―and he discovers that someone is stalking her friend. Brice wouldn't be any kind of cowboy if he didn't offer to help the ladies out. But can the rough rider keep this spirited shutterbug out of danger―without risking his heart?
Cowboy, Cross My Heart by Donna Grant is the second book in the contemporary romance Heart of Texas series. This second book has switched the main characters in the story so it really could be read as a standalone. However, for those that have read the first book the characters do carry over into this story so you get to see where they are now.
Naomi Pierce grew up in TX but moved away for college and stayed away to get her career started as a photographer but now she's returned home for a visit. While Naomi is attending the rodeo to support her best friend she gets the feeling that something is bothering her and as the pair stroll around visiting the animal stalls a man jumps out and attacks.
Brice Harper is a local cowboy that had been in the rodeo and is packing up to head home when he hears a scream nearby. Rushing off to help Brice comes across Naomi as she is struggling with the man that attacked so of course Brice jumps in and runs the man off. Brice and Naomi have chemistry from the start but when they find themselves in danger Brice vows to do whatever he can to protect both ladies and help find who is behind it.
Having read both books in this series I can honestly say I'm quite the fan. These really border closely on romantic suspense as there's definitely a lot of action and danger involved as opposed to two people just meeting and falling in love. I would warn though that this is a rather fast paced relationship build while in the face of danger so those that prefer a more slow build may be disappointed but with sexy cowboys saving the day in the face of danger I'll definitely be back for more in the next installment.
I received an advance copy from the publisher via NetGalley.
Find this book online: 
About the author:
New York Times and USA Today bestselling author Donna Grant has been praised for her "totally addictive" and "unique and sensual" stories. She's the author of more than thirty novels spanning multiple genres of romance, including the bestselling Dark King stories. The acclaimed series features a thrilling combination of dragons, the Fae, and Highlanders who are dark, dangerous, and irresistible. She lives with her two children, a dog, and four cats in Texas.