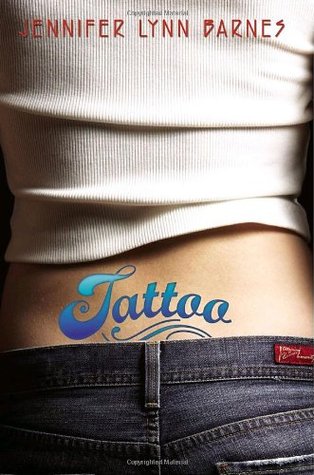 Title: Tattoo
Author: Jennifer Lynn Barnes
Publisher: Delacorte Books for Young Readers
Publication Date: January 10, 2007
Page Count: 260
My rating:   3 1/2 stars
About the book:
Bailey Morgan isn't the type of girl who shows a lot of skin, but somehow, she ends up in a dressing room at the mall with her friend Delia applying a temporary tattoo to her lower back. Never one to suffer fashion doubt, trendsetter Delia knows exactly where she wants her own tattoo: on her stomach, right where her shirt ends—can you say "midriff"? Annabelle, the quiet one, chooses the back of her neck, and tomboy Zo plasters hers on the top of her foot. The tattoos will last for three days, and Delia's sure that with them, the four friends will absolutely kill at the school dance.
Unfortunately, killing is just what someone has in mind, and Bailey, Delia, Annabelle, and Zo are in for the battle of their lives. Along with her tattoo, each girl receives a gift—a supernatural power to help them in their fight. As Bailey's increasingly frightening dreams reveal the nature of their enemy, it becomes clear to the girls that it's up to them to save the world. And if they can get Delia to stop using her newfound power to turn gum wrappers into Prada pumps, they might actually stand a chance.
Tattoo by Jennifer Lynn Barnes is the first book of the young adult fantasy series by the same name. In the story Bailey Morgan and her friends are out shopping for the upcoming school dance when Bailey picks up a pack of temporary tattoos. The girls look at the package and find the tattoos should last until their dance so they decide to give them a try.
As soon as Bailey and her friends apply their tattoos Bailey begins hearing voices and has a weird experience like she was somewhere else. What the girls find is that the tattoos hold some sort of power within and each has now been gifted with different powers.
This was a kind of cutesy young adult read, a bit immature maybe but it would be great for the younger teens and tweens. I loved that the story brings in mythology and magic into it and it went by at a really fast pace which I love. It could have perhaps used more depth to the characters and story but this one is fairly short and kept things moving so I'd give this opener 3.5 stars.
Find this book online: 
About the author:
I'm a Jennifer who goes mostly by Jen, an Oklahoma girl who's also lived in Connecticut and England, and a writer who has a not-so-secret double life as a cognitive scientist. I am a professor of psychology and writing at the University of Oklahoma, where I study the psychology of fiction and fandom.