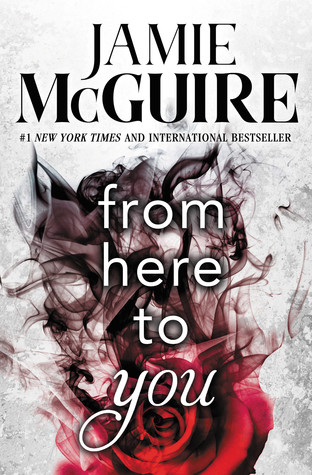 Title: From Here to You
Author: Jamie McGuire
Publisher: Forever
Publication Date: August 21, 2018
Page Count: 384
My rating:   5 stars
About the book:
From the #1 New York Times bestselling author of Beautiful Disaster
As Darby Dixon sits in a tiny Texas church bathroom on her wedding day holding a positive pregnancy test, she realizes that of all the bad decisions she's made in her life, marrying her abusive fiancé would be the worst. She's never been able to stand up for herself, but she'll sure as hell stand up for her baby. With just the cash she has on hand, she runs to get a bus ticket to the farthest place she can afford. Between her sheer grit and pageant-queen smile, she lands a job as a front desk clerk at the Colorado Springs Hotel. It's not a glamorous life, but she and her baby are all that matters.
A former Marine, Scott "Trex" Trexler has worked in the most dangerous, corrupt, war-torn places on earth. Now he finally has a chance to return to the last place he'd felt at peace–Colorado Springs, Colorado, to take a new job with the Cheyenne Mountain Complex, a top-secret military installation buried deep within the granite.
The moment Trex walks into the inn, Darby knows he's dangerous. There's no way she wants to get involved with another man who seems to be keeping way too many secrets. As charming and devastatingly gorgeous as Trex is, he clearly isn't telling her everything. But as wildfires rage on the mountain and Darby's ex-fiancé shows he isn't so willing to let her go, both she and Trex are soon to find out that what you don't know absolutely can hurt you.
From Here to You by Jamie McGuire is the first book of the new Crash and Burn contemporary romance series. While this is the opening of a new series apparently the characters in From Here to You were minor players in another series, I believe The Maddox Brothers although I'm not 100% sure as this is my first novel I've read from Jamie McGuire myself. Having finished this one and loving it though I can say you don't need to have read the previous to enjoy this even if the character/s have crossed over.
The story begins with Darby Dixon just finding out she's pregnant as she's about to marry her abusive fiance and it was one thing to take the abuse herself but Darby refuses to let him harm her baby. Jumping on a bus and going as far as she can she tries to stay off radar and takes a cash job working in a hotel with a room available to her too. Most of the guest at the hotel are the fire fighters coming and going as they battle blazes in the nearby areas and that is when Darby meets Scott "Trex" Trexler.
Trex has always believed that one day he will meet "the one" and the day he met Darby he was sure she was the woman he'd been waiting for. The problem, Darby wants nothing to do with men and especially any military, law enforcement, fire fighters or any field that reminds her of her ex. So being military and ex FBI Trex is not what Darby was looking for at all but before long he begins to show her just what kind of man he is and that he is not her ex.
From Here to You had a lot of great elements to it that easily pulled me into the story and made me love Darby and Trex and want to cheer them on. First, I'm a sucker for a man stepping up and taking care of a child when it's not his own and Trex didn't even blink at the news. Darby on the other hand took a lot of convincing which you don't see too often, the man all in and the woman lagging behind, it was a nice switch. But if anyone deserved to have things go her way it's the woman that found the strength to run and protect her child so my heart went out to her. There's steamy, there's struggles, there's touching moments and emotion along with some suspense on top of it all to really make the pages turn. Great opener to the series that I think many will love.
I received an advance copy from the publisher via NetGalley.
Find this book online: 
About the author:
Jamie McGuire was born in Tulsa, Oklahoma. She attended Northern Oklahoma College, the University of Central Oklahoma, and Autry Technology Center where she graduated with a degree in Radiography.
Jamie paved the way for the New Adult genre with the international bestseller Beautiful Disaster. Her follow-up novel, Walking Disaster, debuted at #1 on the New York Times, USA Today, and Wall Street Journal bestseller lists. Beautiful Oblivion, book one of the Maddox Brothers series, also topped the New York Times bestseller list, debuting at #1.
Jamie lives in Steamboat Springs, Colorado with her husband, Jeff, and their three children.