Title: Sparrow Hill Road
Author:  Seanan McGuire
Publisher: DAW
Publication Date: June 5, 2018
Page Count: 336
My rating: 3 1/2 stars
About the book:
Rose Marshall died in 1952 in Buckley Township, Michigan, run off the road by a man named Bobby Cross—a man who had sold his soul to live forever, and intended to use her death to pay the price of his immortality. Trouble was, he didn't ask Rose what she thought of the idea.
It's been more than sixty years since that night, and she's still sixteen, and she's still running.
They have names for her all over the country: the Girl in the Diner. The Phantom Prom Date. The Girl in the Green Silk Gown. Mostly she just goes by "Rose," a hitchhiking ghost girl with her thumb out and her eyes fixed on the horizon, trying to outrace a man who never sleeps, never stops, and never gives up on the idea of claiming what's his. She's the angel of the overpass, she's the darling of the truck stops, and she's going to figure out a way to win her freedom. After all, it's not like it can kill her.
You can't kill what's already dead.
Sparrow Hill Road by Seanan McGuire is the first book of the paranormal fantasy Ghost Roads series. This series was originally released back in May of 2014 but is now being re-published. It centers around the stories of a ghost of a sixteen year old girl who many have claimed to have contact with over the years.
Rose Marshall was a typical sixteen year old back in 1952 and only wanted to head to her prom the night that she died in Buckley Township, Michigan. Rose had been run off the road causing a horrible accident by a man named Bobby Cross who was using the souls of his unfortunate victims to stay young forever.
For sixty years now Rose has been on the move hitchhiking around and coming in contact with many travelers most of which come to their own unfortunate ends. Rose often finds herself still having to run from Bobby Cross from time to time as he still travels around staying forever young.
Sparrow Hill Road was a rather creative read overall covering many different times over Rose's sixty years of being a ghosts. The author has come up with a whole host of different types of ghosts and a very intricate afterlife to tell Rose's story. There were times though that it could be a tad confusing jumping from one town/time period and then quickly to something else only to return back again and so forth. But in the end the creativity of the story won me over and I decided to give this one 3.5 stars.
I received an advance copy from the publisher via NetGalley.
Find this book online: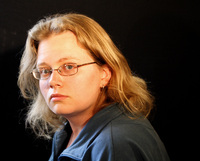 About the author:
Seanan McGuire lives and works in Washington State, where she shares her somewhat idiosyncratic home with her collection of books, creepy dolls, and enormous blue cats.  When not writing–which is fairly rare–she enjoys travel, and can regularly be found any place where there are cornfields, haunted houses, or frogs.  A Campbell, Hugo, and Nebula Award-winning author, Seanan's first book (Rosemary and Rue, the beginning of the October Daye series) was released in 2009, with more than twenty books across various series following since.  Seanan doesn't sleep much.
You can visit her at http://www.seananmcguire.com.