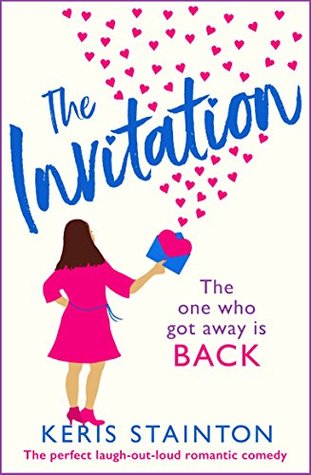 Title: The Invitation
Author: Keris Stainton
Publisher: Bookouture
Publication Date: June 25, 2018
Page Count: 242
My rating:   3 stars
About the book:
When Piper James unexpectedly gets a message from her insanely hot teenage crush Rob Kingsford, inviting her to their school reunion, her heart flips. She hasn't seen Rob in eight years – and he's always been the one who got away.
Throw in some old friends (and frenemies), a sister on the edge of a meltdown and a few too many cosmos and you have all the ingredients for a real night to remember… Will Piper and Rob finally get together, the second time around?
A hilarious and uplifting story about conquering your demons and being true to who you are – perfect for fans of You Had Me At Hello, The List and The Best Thing I Never Had.
The Invitation by Keris Stainton is billed as a second chance romantic comedy and I'm always a sucker for both of those things so of course I had to check this one out. I will say it probably is the best way to describe this one but a lot is left out of the blurb that I didn't expect too.
Piper James is a twenty some single gal that has tried to put her past behind her and move on with her life after dealing with her weight and all the insults that come with it. She's now comfortable in her skin and doesn't let the negative opinions get her down but Piper also never expected to head back to where she grew up.
When Piper gets a Facebook friend request from her high school crush, Rob Kingsford, she doesn't quite know how to react. With some encouragement from her best friend Piper does get in touch with Rob and is surprised to find things aren't quite the way she remembered and it's time to face the past.
The Invitation is the second book that I've read by Keris Stainton and I think after finishing this one I have some of the same feelings that I did with the other. There is quite a bit of humor involved in her stories to put them into the rom-com category but her leading ladies have some issues that also bring some angst into the story that brings the comedy down a bit for me. This one started off pretty solid making light of Piper's weight issues but the longer it went on there was just more and more downer moments that it loses it's fun a bit. What can I say I'm not a huge fan of a lot of angst so again this just turned into an OK read for me.
I received an advance copy from the publisher via NetGalley.
Find this book online: 
About the author:
Also writes as Esme Taylor
My mum always claimed that when she lived in America for a year, my dad wrote to her every day and, in one of his letters, proposed. My dad denied this. But when she got home they got married anyway. In 1966 they emigrated to Canada. They'd wanted to go to New Zealand, but it was full.
I was born in Winnipeg, Manitoba, which, by all accounts, is very cold. And also hot. But when I was four months old, my parents moved back to the UK.
When I was 18 I moved to London and, a few years later – after meeting and falling in love with a fellow northerner – moved back "up north". Now we live in Lancashire (which is lovely, particularly when it's not raining. Which is about two weeks a year) with our two ridiculously gorgeous sons and a pug. Okay, we haven't got a pug, but maybe if I write it here it will come true. If you write it, pugs will come.