Title: The Angel Hunt
Author: Michelle Madow
Publisher: Dreamscape Publishing
Publication Date: May 17, 2018
Page Count: 266
My rating:   4 stars
About the book:
The hunt for demons is about to heat up.
Somehow Raven has convinced Noah and Sage—the two wolf shifters who saved her from a demon attack—to let her tag along on their quest to kill ten demons. The payoff for completing the mission? Entrance to the mystical island of Avalon, where Raven will go through trials to gain the strength she needs to save her mom's life.
Raven wants to help the shifters on their quest. But Noah refuses to put her in any danger—which makes no sense, since he hates her. At least she thinks he hates her… until he catches her off guard and kisses her. Suddenly they're connected in ways she doesn't understand, and she feels closer to him than ever.
If she didn't know any better, she'd think they imprinted on each other. But that's impossible. Because shifters can't imprint on humans.
And if they did imprint on each other, then the supernatural world is changing—and Raven's right in the center of it.
Emotions will flare between Raven and Noah in the second book in The Angel Trials series, an urban fantasy adventure with romance, magic, and twists that will keep you reading long into the night!
The Angel Hunt by Michelle Madow is the second book in the Dark World: The Angel Trials series. This series is a spin off of Michelle's Dark World: The Vampire Wish series but I don't think it's totally necessary to have read The Vampire Wish series although readers would certainly have a much deeper understanding of the world within and a glimpse at the characters that have crossed over to continue on from the end of that series.
Like the previous series The Angel Trials is a urban paranormal fantasy read that has included so far the focus on shifters, witches and demons but mentions vampires and nephilm  that were included previously so I'm sure they will play a bigger part soon enough. There is also mentions of the ending of the previous series and Annika who was the lead character so as mentioned starting with The Vampire wish would definitely give a deeper understanding of everything.
The story has continued right where it left off in the first book where readers were introduced to Raven Danvers who was about to celebrate her 21st birthday. Raven's mother claimed that she is a witch and insisted that Raven would gain powers soon enough but Raven was skeptical of magic. However when Raven was confronted by demons and saved by Noah, who is on a demon hunting task from Annika, Raven's eyes were opened to a whole new world.
As with all of Michelle Madow's books the story is one that happens at a fast pace but does a great job of building the world and characters along with keeping the action moving. Each book in the series builds upon the last and leaves readers breathless for more to come. Again this installment was mostly from Raven's point of view but you do get other point of views along the way as the story progresses. As always when finished I will be anxiously awaiting the next book in the series to see what happens to our characters next.
I received an advance copy from the author, many thanks to Michelle Madow for allowing me to once again read early.
Find this book online: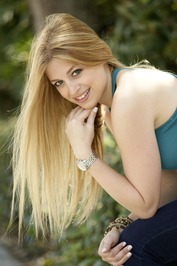 About the author:
Michelle Madow is a USA Today bestselling author of fast paced fantasy novels that will leave you turning the pages wanting more!
She grew up in Maryland and now lives in Florida. Some of her favorite things are: reading, traveling, pizza, time travel, Broadway musicals, and spending time with friends and family. Someday, she hopes to travel the world for a year on a cruise ship.
Visit her website, www.michellemadow.com, to get books of Michelle's for FREE!