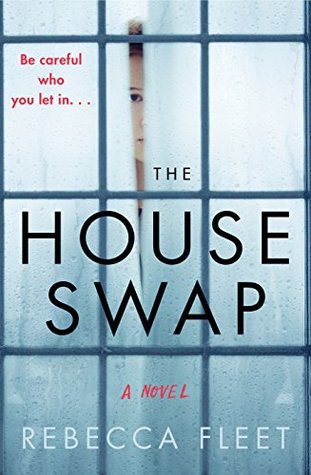 Title: The House Swap
Author: Rebecca Fleet
Publisher: Pamela Dorman Books
Publication Date: May 22, 2018
Page Count: 304
My rating:  2 1/2 stars
About the book:
A hypnotic domestic noir novel in which a house swap becomes the eerie backdrop to a crumbling marriage, a torrid affair, and the fatal consequences that unfold
Be careful who you let in . . .
When Caroline and Francis receive an offer to house swap–from their city apartment to a house in a leafy, upscale London suburb–they jump at the chance for a week away from home, their son, and the tensions that have pushed their marriage to the brink.
As the couple settles in, the old problems that permeate their marriage–his unhealthy behaviors, her indiscretions–start bubbling to the surface. But while they attempt to mend their relationship, their neighbor, an intense young woman, is showing a little too much interest in their activities.
Meanwhile, Caroline slowly begins to uncover some signs of life in the stark house–signs of her life. The flowers in the bathroom or the music might seem innocent to anyone else–but to her they are clues. It seems the person they have swapped with is someone who knows her, someone who knows the secrets she's desperate to forget. . . .
The House Swap by Rebecca Fleet is an extremely slow building domestic drama with an edge of suspense to the story. The book is mostly told from the main character Caroline's point of view with the occasional switch to an unknown voice and a few flashes to her Caroline's husband's POV. The story also switches back and forth between Caroline's present and two years before.
Caroline and Francis are a married couple with a young son that are trying to revive their marriage after mistakes on both of their parts were made in the past. With not enough funds to cover a conventional vacation Caroline had begun to look into the idea of house swapping to try to fund a getaway for her and Francis for some alone time.
When an offer was made on their home the couple happily set out for a much needed vacation but after they arrived little details begin to point Caroline to her own past. Before long Caroline is questioning just who set up this house swap and just who is staying in their home while they are away.
I have to say again, this one was an extremely slow build which of course is a big factor of my rating on this book. A good 2/3-3/4 of the book focuses on Caroline's affair in the past and her obsession with that relationship which really only had me wondering why she is even still with her husband and rather losing interest.
However with an ending that really stood out this one easily could have been a 3 or above but when finished with the wrap up I still felt a bit underwhelmed with the whole story leaving me to rate this book at 2.5 stars. There was certainly potential to the writing so I wouldn't be opposed to trying another story by the author that perhaps wasn't so focused on an affair.
I received an advance copy from the publisher via Edelweiss.
Find this book online: