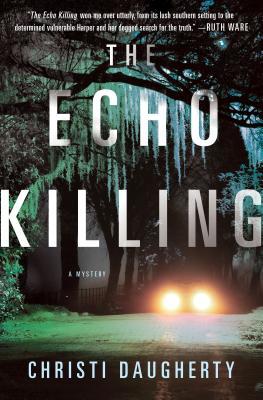 Title: The Echo Killing
Author: Christi Daugherty
Publisher: Minotaur Books
Publication Date: March 13, 2018
Page Count: 368
My rating:  4 stars
About the book:
When a murder echoing a fifteen-year-old cold case rocks the Southern town of Savannah, crime reporter Harper McClain risks everything to find the identity of this calculated killer in Christi Daugherty's new novel The Echo Killing.
A city of antebellum architecture, picturesque parks, and cobblestone streets, Savannah moves at a graceful pace. But for Harper McClain, the timeless beauty and culture that distinguishes her home's Southern heritage vanishes during the dark and dangerous nights. She wouldn't have it any other way. Not even finding her mother brutally murdered in their home when she was twelve has made her love Savannah any less.
Her mother's killer was never found, and that unsolved murder left Harper with an obsession that drove her to become one of the best crime reporters in the state of Georgia. She spends her nights with the police, searching for criminals. Her latest investigation takes her to the scene of a homicide where the details are hauntingly familiar: a young girl being led from the scene by a detective, a female victim naked and stabbed multiple times in the kitchen, and no traces of any evidence pointing towards a suspect.
Harper has seen all of this before in her own life. The similarities between the murder of Marie Whitney and her own mother's death lead her to believe they're both victims of the same killer. At last, she has the chance to find the murderer who's eluded justice for fifteen years and make sure another little girl isn't forever haunted by a senseless act of violence―even if it puts Harper in the killer's cross-hairs…
The Echo Killing by Christi Daugherty is the first book in the thrilling Harper McClain series. Harper is a crime reporter that lives life on the edge following the latest story giving the series and action packed ride from start to finish. This also felt to be just on the edge of being romantic suspense with a bit of a relationship forming too.
The story begins with Harper and her photographer, Miles Jackson, following the police scanner as the call comes in for a shooting. As they are investigating what is going on at the scene the pair find themselves following as the suspects are being chased. When heading into a sketchy area with back up no where around Harper and Miles end up pinned down by gunfire by the suspects.
The explosive beginning shows readers just how involved in finding her story and finding justice that Harper is. Fifteen years before Harper had walked in on her mother's body in their kitchen after a gruesome murder and growing up around law enforcement since that moment Harper is no stranger to crime.
But as Harper goes after the headlines for her paper she finds herself walking in on another scene that brings back the memories of her mother's death. With the same set up as that crime fifteen years before Harper can't help but feel the pull to find out what happened to this latest victim and maybe, just maybe, finally get justice for her mother.
This was a great beginning to what looks to be a very promising series featuring an investigative journalist. With the ties the main character has to law enforcement it makes the story even better as she will have advantages to use as she investigates. And as tough and determined as Harper was she also showed a softer, more human side in getting involved with a love interest who helps with her investigating. With such a fast paced and thrilling ride in this first book of the series I definitely will be interested in seeing where the story goes from here with a bit of a cliffhanger ending leaving room for so much more to come.
I received an advance copy from the publisher via NetGalley.
Find this book online: 
About the author: 
As a​ ​​newspaper​ ​reporter, Christi Daugherty first began covering murders at the age of 22. She worked as a journalist for years in cities including Savannah, Baton Rouge, and New Orleans. The Echo Killing is her first crime novel. Find out more and win signed books by visiting her website: www.ChristiDaugherty.com. You can also follow Christi on Twitter (@CJ_Daugherty) and Facebook (CJAuthor).