The Big Bad Wolf by Jus Accardo #bookreview #fantasy #YA
Title: The Big Bad Wolf
Author: Jus Accardo
Publisher: Entangled: Teen
Publication Date: March 5, 2018
Page Count: 184
My rating:  3 1/2 stars
About the book:
Kensey Deaton comes from an elite werewolf lineage, but just because her family is royalty, doesn't mean she'll fall in line like some perfect little princess. She has plans and they don't include an arranged marriage!
Slade McAlister has his own family drama. His Alpha father happens to be the most reviled wolf on the eastern seaboard, and it's a stigma he can't escape. So when his neighbor Kensey–the girl of his dreams and his nightmares–proposes a solution to solve *both* of their problems, he sees an opportunity he can't ignore.
Kensey and Slade aren't only from opposite sides of the tracks, they're from opposite sides of the war. But if they can sell their 'relationship', they might just make it out of this with their freedom.
You know, as long as all that fake PDA doesn't turn into more…
The Big Bad Wolf by Jus Accardo is a young adult shifter fantasy read that has a bit of a contemporary romance to it also. The two main characters Kensey Deaton and Slade McAlister alternate their point of view with each chapter.
Kensey's father is the Alpha of her pack and her family is considered royalty in the werewolf community while Slade is from the more criminal pack in town that don't follow the rules and take what they want.
When Kensey's father tells her she needs to chose her mate or he will set up a suitable arrangement she gets the idea to set up a fake relationship with her bad boy neighbor, Slade, to try to get her father to change his mind. In return Slade just wants out of the pack and politics to become a lone wolf.
The Big Bad Wolf is like taking two different tropes and mashing them together to come up with this quick, fun read. Fake dating that turns into a real relationship has been done quite often and can always be a fun set up but then the author took it to another level setting the story within a shifter community with it's pack laws and politics at play.
The biggest part of this read like a more light young adult story as the characters slowly admit they have had feelings for one another. However there are some darker elements to the tale bringing in the shifter side along with even going as far as a mention of assault at one point.
For me when finished as much as this was a fun way to pass a couple of hours with the mixing of stories with a bit of wolfy Romeo and Juliet I just wondered if it couldn't have had a bit more to make it stand out as it's own story leaving me to rate this one at 3.5 stars.
I received an advance copy from the publisher via NetGalley.
Find this book online: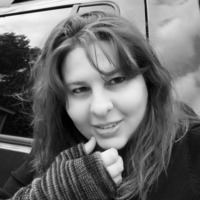 About the author: 
JUS ACCARDO spent her childhood reading and learning to cook. Determined to follow in her grandfather's footsteps as a chef, she applied and was accepted to the Culinary Institute of America. But at the last minute, she realized her true path lay with fiction, not food.
Jus is the bestselling author of the popular Denazen series from Entangled publishing, as well as the Darker Agency series, and the New Adult series, The Eternal Balance. A native New Yorker, she lives in the middle of nowhere with her husband, three dogs, and sometimes guard bear, Oswald.