The Last Laugh by Tracy Bloom @TracyBBloom @Bookouture #bookreview #chicklit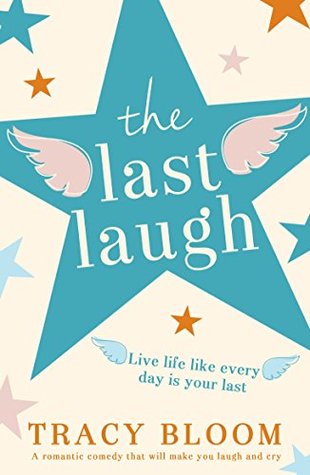 Title: The Last Laugh
Author: Tracy Bloom
Publisher: Bookouture
Publication Date: February 23, 2018
Page Count: 308
My rating:  4 stars
About the book:
Jenny discovers her days are numbered at the same time she discovers her husband is having an affair…
Frankly, her life was tough enough already. Two tricky teenagers, her mother's constant complaints, friends who aren't up to the job and a career which has been spiralling downwards since she won 'Sunseeker Tour Rep of the Season' twenty years ago.
And now this: a cheating husband and a death sentence.
Enough is enough. Jenny vows to keep both catastrophes a secret. She takes her life – and death – into her own hands and decides to live as she did when she was happiest… in 1996. She plans a spectacular 1990s themed party in place of a wake that she herself will attend. But will she be able to keep her secrets for long enough to have the party of a lifetime?
From No. 1 bestseller Tracy Bloom, The Last Laugh is both hilarious and heartbreaking, a book about how to find happiness and live your life as though every day is your last. Perfect for fans of Marian Keyes and The Kicking the Bucket List.
The Last Laugh by Tracy Bloom is the second book I've picked up by this author and she's quickly becoming known to me as one to expect the laughs to come quickly. This book however has a rather sad side to the plot but the main character does her best to not become sad and still throws those one liners and off the wall actions at the user to keep us smiling.
The story introduces us to Jenny who is a mom to a couple of teenagers and a wife of about twenty years now. It was time for Jenny to head to the doctor where she gets the horrible news of having incurable cancer but as if that isn't bad enough for her when she seeks out solace from her husband she finds him bending a female co-worker over the office furniture with his pants around his ankles. Oh my.
Does Jenny let all of this ruin her? Heck no. Jenny decides that if she's going to go out of this world she's going to do it on her own terms and those would not be with tears and sympathy. Instead Jenny decides to take a trip back to a time in her life when she was the happiest she can remember in her version of a mid-life, or end of life crisis in her case.
From the opening pages I knew this book was going to contain one of those characters that I just couldn't help but to love, a harried mom with her over the top answer to any situation that kept the laughter coming even in the darkest moments for her. Her horrific situation and her battle through dealing with it made the book one that should touch any reader giving it that up and down emotional roller coaster feel. When finished I will definitely be keeping an eye out for more from Tracy Bloom in the future.
I received an advance copy from the publisher via NetGalley.
Find this book online: 
About the author:
Tracy started writing when her cruel, heartless husband ripped her away from her dream job shopping for rollercoasters for the UK's leading theme parks, to live in America with a brand new baby and no mates. In a cunning plan to avoid domestic duties she wrote the romantic comedy, NO-ONE EVER HAS SEX ON A TUESDAY.
Her new Connecticut friends took a shine to her British sense of humour and encouraged her to share her words with a wider audience. NO-ONE EVER HAS SEX ON A TUESDAY went on to be successfully published internationally and became a number 1 bestseller in the UK. So now Tracy has a new dream job, making people laugh and sometimes cry through her writing.
She's back in England now and cracking on with writing about other people who screw up their lives in a hilarious fashion. NO-ONE EVER HAS SEX ON CHRISTMAS DAY is her latest novel to be launched into the world.
Get in touch with Tracy at tracybloom@hotmail.co.uk or follow her on twitter @TracyBBloom