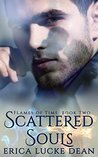 Scattered Souls by Erica Lucke Dean
My rating: 5 of 5 stars
Scattered Souls is the second book in the Flames of Time series by Erica Lucke Dean. The story revolves around a set of twin brothers who were cursed because their mother had gone to a witch to cast a spell on her unborn baby wishing it would always find it's soul mate. With the brothers being twins instead of one child they are said to share a soul with both being connected to one girl's soul all throughout time.
The story in Scattered Souls picks up right after the cliffhanger ending in the first book of the series with Maddox, Laith and Ava dealing with all being tied together due to the curse. Laith has taken Ava to the 1920's to show her that he is not the bad brother and let her get to know him better. Meanwhile Maddox is stuck in the present not knowing where his brother has gone with Ava and vows to search for her across time until she is found.
Now I know that the Flames of Time series is not going to be for everyone with the insta-love and love triangle involved in the story but I have to say it's got me quite hooked on the story and just what will happen with this trio. I'm not usually even a fan of a story with a love triangle involving siblings but with this relationship being based on a witch's curse and the brothers traveling through time for hundreds of years to find their soulmate it didn't take long to become engaged.
The writing in this series is absolutely wonderful so that certainly helped gain my interest in the series. It's also full of twists and turns for the characters as the story goes along and while I found the character building good in the first book it got that much better in the second as I got to know them all a bit more. There was also a lot more time travel involved in the story in this second installment which made the story that much more intense and interesting.
Overall, great series so far and after another cliffhanger ending keeping me on the edge of my seat I can't wait for the next book in the series.
I received a copy from the publisher via NetGalley.