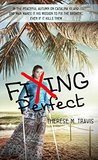 Fixing Perfect by Therese M. Travis
My rating: 3 of 5 stars
Robin Ingram is a disabled artist living in the community of Avalon on Catalina Island where everyone is on high alert after a baby sitter had gone missing with her young charge. It had been assumed the sitter had kidnapped the child until her body is found murdered but also painted and posed with a huge resemblance to Robin.
With a madman on the loose that seems to be focused on fixing Robin of her disability through the posing of the murders he's committing Robin turns to her friend Sam Albrecht to help find the killer. But before Robin knows it the police take Sam into custody and while Robin doesn't know who the real killer is she does know it's not her friend Sam.
Fixing Perfect by Therese M. Travis was a nice enough murder mystery story about a serial killer who is kidnapping adults and children while fixated on the female main character in the story. The story switches the point of view between Robin, the killer and the hostages at various points during the read keeping their versions to what they know is going on and hiding the identity of the killer.
My lower rating with this one at three stars is simply because to me the killer seemed fairly obvious as I was reading along. It just didn't seem to have the plot twists and turns and hiding the identity to make this a completely intense page turner that I couldn't put down. Still a nice little read with some lovely secondary characters and setting but I would have preferred a bit more mystery and suspense.
I received a copy from the publisher via NetGalley.