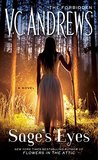 Sage's Eyes by V.C. Andrews
My rating: 2 of 5 stars
Sage learned early on in life that she was adopted when she was only a baby. As a child she would have these visions which she would tell everyone of things that had happened to her but her parents would correct her that she had never done any of it. Because of this her adoptive parents became completely overprotective and strict compared to other parents.
When Sage starts a new school her parents urge her to make friends but question every move Sage makes asking in extreme detail about any interaction she has with others her age. They seem to be waiting for Sage to do something wrong even though she is an A student and follows all their rules. When a new boy enters the school Sage feels that they are a lot alike and she wants to get her parents to let her spend time with him.
I had hopes that Sage's Eyes would pull me out of a funk I'd been in with reading V.C. Andrews novels. Unfortunately after finishing this one I just feel let down yet again. The story started off fine and felt like it might just break the mold and be just a bit different to some of the other books which in a way it was but some of that normal formula still pops in there too.
What I first noticed with this story was the incredibly slow pacing. I think the entire book could have been half the length and easily told the same story. The first half if not a bit more was completely about how Sage's parents treated her. It got incredibly repetitive to me so much so that I had to force myself to continue reading to see how this would all turn out.
For the majority of the story I was also leaning towards three stars as my only real complaint would be the slowness of it. But then I actually finished the entire book and so as not to spoil the story I will just say that for one the ending felt rushed to a conclusion after the too slow beginning. It also felt as if the author picked something out of the air and just rushed a conclusion based on that and didn't put any research into it or find something more plausible to explain the entire story up to that point.
Overall, another disappointment for me in the V.C. Andrews catalog. I keep hoping to find another gem but I think honestly what seems to be lacking is Ms. Andrews herself as anything later works with the ghostwriter just haven't stood out to me in any way.
I received an advance copy from the publisher via NetGalley in exchange for an honest review.