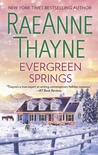 Evergreen Springs by RaeAnne Thayne
My rating: 3 of 5 stars
Cole Barrett is a single father with a sordid past. His ex-wife has recently passed away leaving him to suddenly be a full time father while he's also struggling to get his life on track and his ranch turned into a successful business. When his very pregnant with twins sister who has been visiting takes a tumble he rushes her to the ER where they meet the young doctor Devin Shaw.
Devin knew Trisha when they were growing up and considers her a friend so when she hears of her brother Cole's struggles and knows Trisha will be on bed rest she decides to pitch in and do something for the struggling little family. Devin puts out a call to the helping hands group of Haven Point and soon has a bunch of meals to deliver to the Barrett's but when going out she can't help but volunteer to spend more time with the two grieving children and soon finds herself falling in love with them and their father.
I've really enjoyed all of the Haven Point books that I've read so far but this one just not quite as much as the first two in the series. I think for me, while I enjoyed Devin's character immensely and her helping others spirit, I just found myself struggling to connect to Cole for most of the story. He seemed so distant to me which is what his character is meant to be but it's hard to really root for him when I don't feel much of his personality stood out either. Also, Devin admits that she wants to fix everyone in the book. While this makes her a lovely soul who enjoys helping others it also makes me question the idea of a relationship starting off on her wanting to "fix" Cole and his problems.
Still overall a lovely book set in Haven Point, a small community where everyone cares about each other and what seems would be a beautiful place to live. It's very hard not to enjoy the overall atmosphere and warmth in this series. This one takes place right before Christmas so you get to enjoy reading all of the holiday warmth and activities associated with the season in this lovely town.