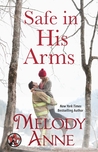 Safe in His Arms by Melody Anne
My rating: 4 of 5 stars
When Natalie Duncan accepts a teaching job in Montana she comes in completely unprepared for the weather and the matchmaking crew of ladies that already have plans to set her up with the town's most eligible bachelor Hawk Winchester the fire chief. After being paired up together on many occasions Natalie and Hawk find themselves becoming more involved than either planned or hoped for.
Another lovely little holiday read taking place from Thanksgiving to Christmas time. This one would be great for anyone ever checking out the sexy firefighters as Hawk is certainly a steamy male lead. Natalie was also great, her back story was very touching and couldn't help but feel for her and enjoy her strength.
This was also another one of those small town reads where everyone knows each other and such a feeling of family and togetherness. Great book to cozy up to on the cold winter nights ahead!
I received an advance copy from the publisher via NetGalley in exchange for an honest review.