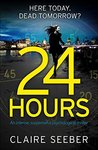 24 Hours: An intense, suspenseful psychological thriller by Claire Seeber
My rating: 4 of 5 stars
24 Hours is a gripping phychological thriller that centers around the main character Laurie. The chapters alternate between what is happening in the present time and a look back at Laurie's past.
In the present story line Laurie has just escaped a fire at her hotel which has taken the life of her best friend Emily. Emily was mistakenly identified as Laurie and Laurie believes that the fire was meant to kill her. She panics and runs from the police and investigation to try to get to her mother who has taken her daughter on a trip but due to return before her ex-husband can get to them.
The chapters from the past tell the tale of how Laurie was treated by her husband and what happens after their split. Also, it tells how Laurie had met another man after Sid had left.
The majority of this book was definitely a gripping page turning suspense but I did feel a bit in the middle slowed down just a tad bit. Laurie on her journey to find Polly fell asleep several times which I kind of questioned as no matter how long it's been since you've slept I'd think your daughter being missing and possibly someone out to kill you would have me wide awake. Didn't quite understand that being added in especially more than once.
Otherwise I was definitely caught up in the story and wondering just what the story of the fire and why it happened. Was it truly Sid? Was it Mal? Or is anyone even out to get Laurie or it all in her mind? So many questions to be answered and such an intriguing past that I'm sure readers should love following Laurie on her adventure.
24 hours in Laurie's life was certainly an adventure that should hook readers. Would definitely recommend checking out this novel.
I received a copy of this book from the publisher via NetGalley in exchange for an honest review.