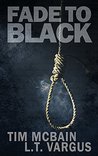 Fade to Black by Tim McBain
My rating: 1 of 5 stars
Jeff Grobnagger suffers from seizures and when these occur he dreams the same thing over and over, his own death from a mysterious hooded man. When one of these occur in a public place Jeff meets an older man who thinks he may know what is going on with him and that it may also have something to do with his missing daughter so he asks Jeff's help to find her.
Starting off with this book I honestly thought I'd end up giving it four of five stars, there are a lot of others that have done so. The first few chapters were great and I really thought I would enjoy it but the further I read the more it lost my interest and just seemed a confusing mix of different ideas that weren't really fitting together well.
I didn't really care for Jeff, he kept insisting he was a loner and out for himself which really became a bit annoying to keep stating but then he would end up doing the exact opposite anyway. The story starts off with a bit of a mystery but then adds more and more to it which really don't even seem to fit together. By the time I got to the end I ended up with one of those that's it? feelings. Just not my cup of tea I'm afraid.
Overall, lost interest really quickly and really wouldn't recommend this one.