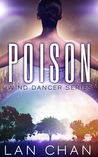 Poison by Lan Chan
My rating: 5 of 5 stars
Poison takes place in a post-apocalyptic Australia where a controlling body known as the Seeders have genetically manipulated everything and have poisoned the land and outlawed the saving of seeds. The Wanderers have fought against the Seeders but have been all but wiped out. The outlying areas rely on the Seeders to survive.
Rory Gray lost her mother at an early age as she was a Wanderer so the Seeders had killed her. Rory vowed revenge then and when the Seeders start to wipe out the Landing where Rory has grown up she attempts to head into the woods to make her way to the Citadel to stop the Seeders.
Poison is a fast paced YA dystopian novel full of action and suspense. There are some similarities to the Hunger Games but not enough to make them anywhere near the same. You could compare the Citadel and Seeders to the Capital and President Snow in the Hunger Games and Rory has to fight to survive her time in the woods much like Katniss in the arena. They are really small comparisons overall but fans of that series would probably enjoy Poison.
The author did a wonderful job creating the setting in the book. So many new and exciting things to conquer. The characters and story were fully fleshed out but the plot kept moving at a wonderfully fast pace all the while catching the reader up on what lead to the current situation. It seemed to be heading into a love triangle but that didn't happen which was actually kind of nice to concentrate on the plot with these characters.
Definitely a great start to this series and will look forward to continuing the story in the next book.
I received a copy of this book from the publisher via NetGalley in exchange for an honest review.