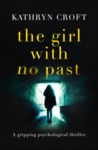 The Girl With No Past by Kathryn Croft
My rating: 5 of 5 stars
Leah Mills lives a very solitary life. She's had a troubled past and isolates herself from others only to go out to work in the library. She meets a man online that she thinks she has a connection with and wants to meet but on the anniversary of a big event in her life she begins to receive cards and mails from someone who seems to know her past and her secrets and who seems to have been watching her.
So many questions in Leah's life. Why is she so isolated? What has happened to her? Who is contacting her now? Will she begin to find new friends and love again in her life? What happened to her former friends and boyfriend, Adam?
I have to admit when I started to read this book I thought I was going to be very annoyed with it. The book switches back and forth from Leah's past to Leah in the present. After about four chapters though I got into a groove with how it's done and really began to enjoy the story. What I found was instead on one mystery happening we really end up with two. It doesn't come right out and tell what had happened with Leah in the past so the reader is left guessing. Then in the present someone obviously knows Leah's past and keeps sending her messages. This made for double the suspense and intrigue in the story just wanting answers to everything that was happening.
Overall, a wonderfully written book full of gripping suspense I'd highly recommend. One that I found rather hard to put down as it felt that I had double the plot to unfold.
I received an advance copy from the publisher via NetGalley in exchange for an honest review.