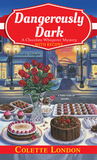 Dangerously Dark by Colette London
My rating: 2 of 5 stars
Hayden Mundy Moore has traveled to Portland to visit her old college friend for her engagement party. Unfortunately right after arriving the fiance in question turns up dead. The death is ruled an accident but Hayden is determined that Declan's death is suspicious and she's stumbled on another murder to solve.
Dangerously Dark is the sequel to Criminal Confections which first introduced Hayden as a world famous chocolate whisperer. She travels the world helping companies with their problems involving all things chocolate. In her last job she came across a murder and helped solve it so when finding a death while visiting her friend she's determined to do the same.
There are a lot of different reasons I ended up not really enjoying this story, I can see that some will love it though but it just wasn't for me. First, Hayden is a rather frantic character. She admits at one point that her mind will go to a thousand places at once but for a story this gets sometimes confusing and sometimes just plain boring as she thinks this and this and this but takes forever to get back to the original point. I had a really hard time making any kind of connection to her because of this.
Another thing with the story was that the "murder" in question to everyone else was an accident. Hayden is the only one thinking there is even anything to investigate and with the frantic nature I've already mentioned I was questioning whether this really was even a mystery. You get 35-40% into the book before even one person agrees to help her investigate and that's a friend that just wants to prove Hayden is wrong and seeing things that aren't there. This is way too slow a pace for me to get caught up solving something that as I said I was starting to think I was tricked into believing there was something even to solve at that point.
There is also a repetitive nature to some of Hayden's ramblings. I lost count of the times it was mentioned she had lost her beloved crossbody bag and had an inferior purse. Some other aspects also seemed to get repetitive too, descriptions of her "suspects", describing her chocolate expertise etc.
In the end it just wasn't for me. Found it too slow going and prefer a more fast paced whodunnit.
I received a copy of this book from the publisher via NetGalley in exchange for an honest review.