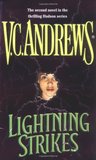 Lightning Strikes by V.C. Andrews
My rating: 3 of 5 stars
This being the 2nd book in a V.C. Andrews series it follows the typical storyline… The main character is really a hot mess as they try to figure out their life/family. I find a lot of it pretty predictable having read others.