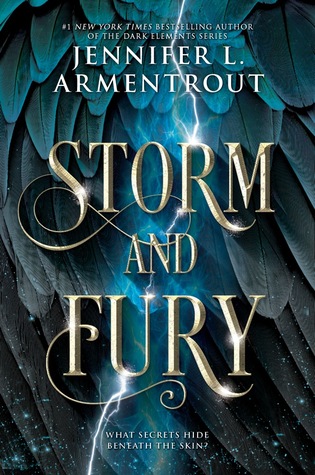 Title: Storm and Fury
Author: Jennifer L. Armentrout
Publisher: Inkyard Press
Publication Date: June 11, 2019
Page Count: 512
My rating: 4 1/2 stars
About the book:
Enter a world of gargoyle protectors, rising demons and one girl with an explosive secret.
Eighteen-year-old Trinity Marrow may be going blind, but she can see and communicate with ghosts and spirits. Her unique gift is part of a secret so dangerous that she's been in hiding for years in an isolated compound fiercely guarded by Wardens—gargoyle shape-shifters who protect humankind from demons. If the demons discover the truth about Trinity, they'll devour her, flesh and bone, to enhance their own powers.
When Wardens from another clan arrive with disturbing reports that something out there is killing both demons and Wardens, Trinity's safe world implodes. Not the least because one of the outsiders is the most annoying and fascinating person she's ever met. Zayne has secrets of his own that will upend her world yet again—but working together becomes imperative once demons breach the compound and Trinity's secret comes to light. To save her family and maybe the world, she'll have to put her trust in Zayne. But all bets are off as a supernatural war is unleashed…
Storm and Fury by Jennifer L. Armentrout is the first book of the new young adult romantic paranormal fantasy The Harbinger series. Now, while this is a start to a whole new series it is not the first time  readers have visited the world within as this one is a spin off to  the author's Dark Elements series. One would probably be curious how this new series would work if you haven't read the older series and it's safe for me  to say it read fine as this is actually the first book ever by Jennifer L. Armentrout that I've read, yes, I know I'm behind the  times with this author but better late than never, right?
Storm and Fury is centered around eighteen year old Trinity Marrow who is human, well, sort of. Trinity has a little something special about her that has kept her hidden in a remote compound surrounded by Warden protectors. Trinity though is not a girl that thinks she needs protecting so despite her more fragile human side and being diagnosed with a disease that is slowly making her blind Trinity has trained just as hard, if not harder than those around her. When Trinity's safety and that of those around her is threatened more Wardens arrive from another clan which includes Zayne who Trinity finds herself drawn to.
I really had no idea what to expect going into Storm and Fury but I did expect to  find good solid writing considering how established the author is and thankfully I was right. Thankfully the world building was there despite it being a spin off world so I quickly understood what was happening and became engaged in the story. Despite a few times it felt a tad younger than the characters are supposed to be I completely enjoyed getting to know them and the action kept the story up at a good solid pace despite the length. I would warn of  two things with this one, insta-love a lot don't like and a scene that got rather steamy between the characters. Overall though for me this one came in at 4 1/2 stars and I'll look forward to more in the series.
I received an advance copy from the publisher via NetGalley.
Find this book online: 
About the author:
# 1 NEW YORK TIMES and USA TODAY Bestselling author Jennifer L. Armentrout lives in West Virginia.
When she's not hard at work writing, she spends her time, reading, working out, watching zombie movies, and pretending to write. She shares her home with her husband, his K-9 partner named Diesel and her hyper Jack Russell Loki. Her dreams of becoming an author started in algebra class, where she spent her time writing short stories. Therefore explains her dismal grades in math. Jennifer writes Young Adult Contemporary, Urban Fantasy/Paranormal and Romance. She writes New Adult and Adult romance under the pen name J.Lynn
She is the author of the Covenant Series (Spencer Hill Press) the Lux Series (Entangled Teen) and the upcoming YA Don't Look Back (2014) and untitled YA (Fall 2014) from Disney/Hyperion. She is also published with Harlequin Teen and HarperCollins.